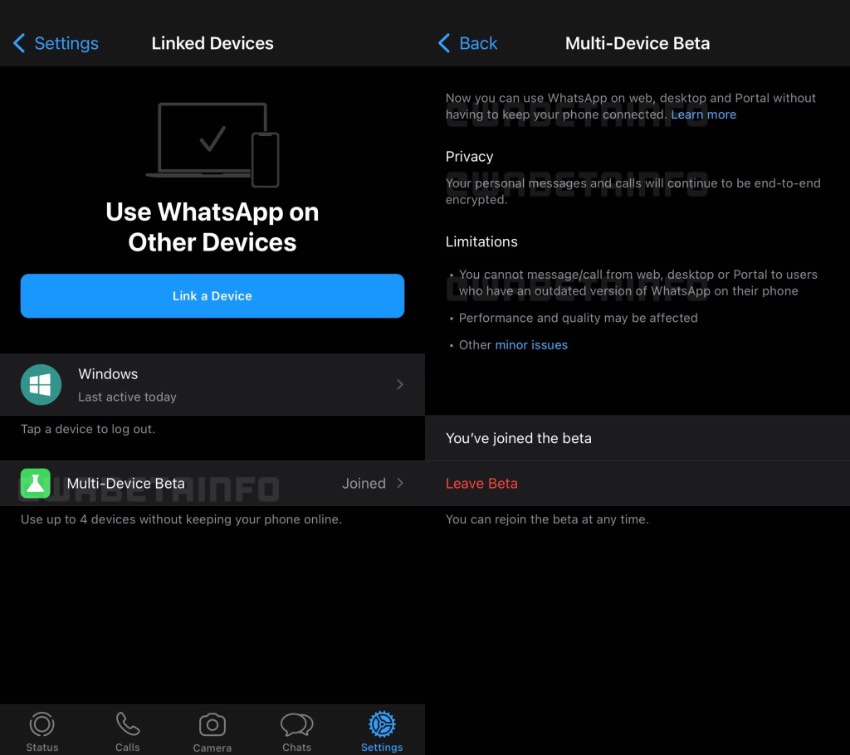 It looks like WhatsApp is close to adding multi-device support on its iOS messaging app. WhatsApp had been internally testing the multi-device compatibility since last year and now it has released this feature to some beta testers of the iOS app with the release of version 2.21.150.11.
The multi-device feature support is currently being rolled out gradually with some beta testers receiving the feature for testing. WhatsApp has only rolled it out to some iOS beta users while others have not received it, as they are not eligible yet according to WABetaInfo.
Once the multi-device feature has launched for everyone, WhatsApp users will be able to use their WhatsApp account on up to 4 devices. This could include other iPhones and Macs.
Currently users can only use their WhatsApp account on one iPhone and in order to use it on the Mac, web or Windows app their iPhone needs to be connected to the Internet. With this new feature that won't be necessary.
The roll out of WhatsApp multi-device support could finally force WhatsApp to release a native WhatsApp application for iPad, which the company is rumored to be working on since last 3 years.
No details about exactly when this feature will be available to public are known yet, however with the feature being rolled out to beta testers the launch could happen fairly soon.