Wi-Fi is the lifeline of an iOS device. If there's no Wi-Fi available, then chances are you are left with an expensive and limited mobile Internet. Despite its importance Wi-Fi settings have not received the love they deserve from Apple. The company has not added a dedicated Wi-Fi shortcut to access Wi-Fi Settings in the Control Center, and if you don't have the 3D Touch enabled iPhone you have to perform several taps before you can access them.
The Wi-Fi Widget app from the App Store aims to save user's time and frustration by allowing them to quickly see their Wi-Fi network, test if it is working and share its password with friends. The most useful thing you can do with Wi-Fi Widget app is that you can check if your internet connection is working or not. Normally you would have to open Safari and then open a web page to see if you are connected. This app displays a large tick in the Spotlight or Notification Center widget to indicate the same thing.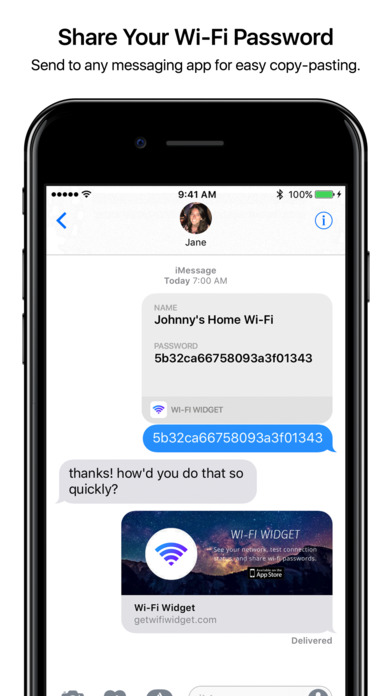 Another super useful feature of this app makes it easier for users to share their Wi-Fi password with family and friends. When someone is visiting your home and wants to connect to WiFi, you have to go through the awkward moment of spelling the whole thing for them, which is time consuming and inefficient. With this tweak you can share your Wi-Fi password by simply loading up the widget and showing the password to the other person.If your password is long you can even copy it and send it via text message to the other person. This can be done without unlocking the device right from the lockscreen – provided you have enabled lockscreen widgets on iOS 10 or later.
You can check the current speed of your internet connection in MB/s or Mbps as it is also displayed on the widget. The Wi-Fi Widget app makes it super quick to access the Wi-Fi Settings page. All you have to do is tap on the widget and it will open Settings > Wi-Fi for you.
The Wi-Fi Widget app is available in the App Store for $0.99. You need iOS 10.1 or later to run this app.