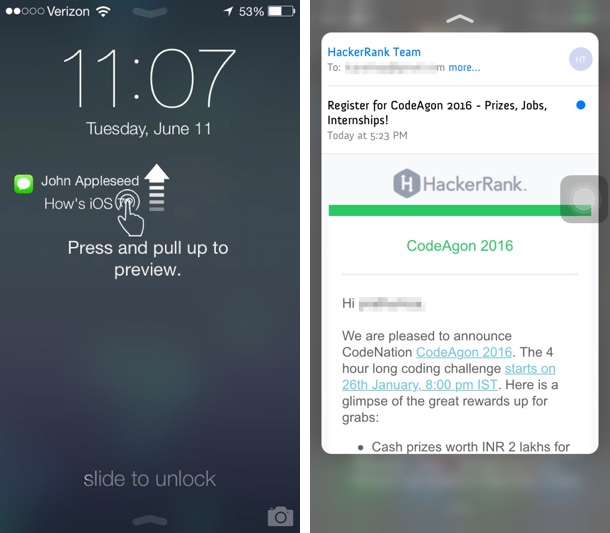 The implementation of 3D Touch is quite limited on the newest iPhones, as there are no gestures or actions for the lockscreen or the Notification Center. The new 3D Touch Notifications tweak takes care of that by adding the much needed 3D Touch support for the Lockscreen as well as the Notification Center. While the hack has been designed for devices that feature 3D Touch functionality by default, it also works on older iOS devices running RevealMenu tweak. With 3D Touch Notifications users can add Peek and Pop gestures for notifications belonging to Calendar, Facetime, Mail, Messages, Phone and even WhatsApp.
After installing the 3D Touch Notifications tweak you will be able to see previews of your apps right from the Notification Center and the Lockscreen, by force tapping on the app's notification. This means you can read you messages or take a glance at the information from NC or LS, without even opening the app. When you are previewing on the Lockscreen you get to see more details about a notification without even unlocking the device. On the Lockscreen you have to tap and swipe up to get previews.
Along with adding Peek and Pop functionality to notifications on the Notification Center and Lockscreen, 3D Touch Notifications also allows users to perform different actions. All they have to do is Peek and swipe up, to reveal a menu with relevant options.
All notification Peek and Pop functions work properly on the lockscreen, the only exception being the Mail app. Since the device is locked, you will not be able to get previews of messages. The previews should work normally on the NC when the device is unlocked.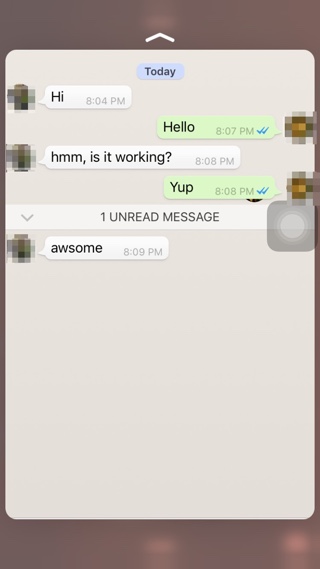 3D Touch Notifications tweak also adds Peek and Pop for WhatsApp notifications, however to get that you have to download free 3DTN for WhatsApp tweak separately from Cydia. Unlike Mail app, you will get full previews on the lockscreen as well as on the Notification Center.
Users with jailbroken devices can download 3D Touch Notifications for free through the BigBoss repo. It requires iOS 9 to work.