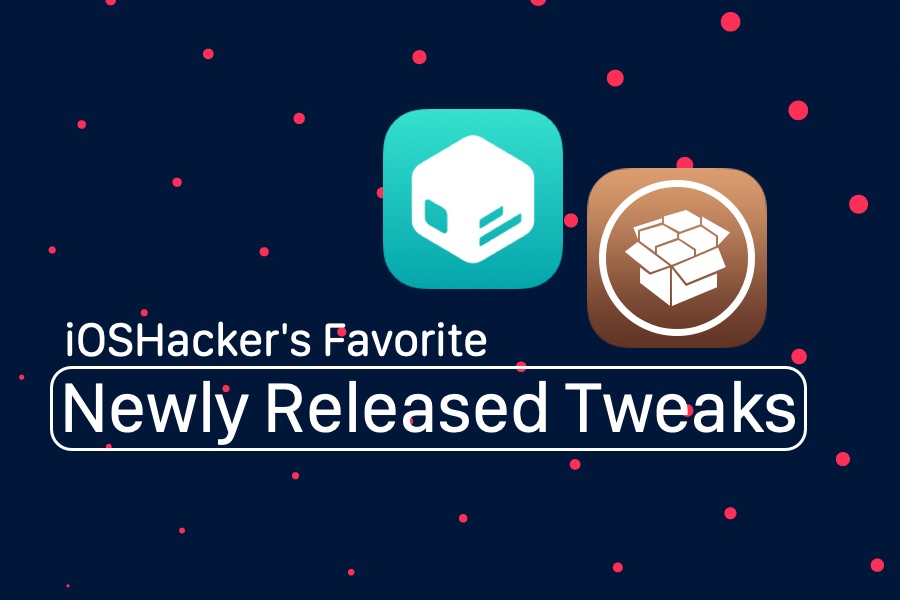 Several weeks have passed since our last post highlighting the must have newly released tweaks for iOS 13 users. So today we are back with another roundup of tweaks that we think are worthy of your consideration and will fit nicely on your jailbroken iPhone, iPad or iPod touch.
Read on to learn about the newly released iOS 13 tweaks including Carbonite, Mail Labeler 12, SmartNetwork, PlaybackTheDuck, LockTouch3 and RaiseLight. Here we have detailed what these awesome tweaks do and how you can download them on your devices.
Carbonite Tweak: Make Empty Space On Reachability Screen More Useful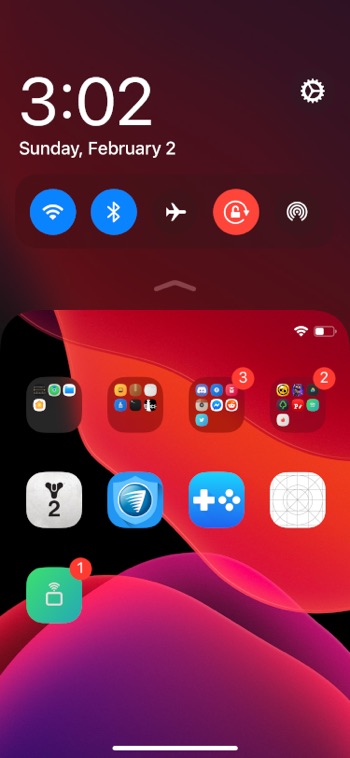 With the Carbonite tweak you can make the Reachability screen (accessible by swiping down on the home bar) more useful. Carbonite takes the empty area on the Reachability screen and fills it with useful information and toggles.
As seen in the screenshot above you get the date and time, toggles for Wi-Fi, Bluetooth, Airplane mode, orientation lock and AirDrop instead of the useless empty space. In addition to this Carbonite tweak also adds a shortcut button that allows you to quickly launch the Settings app.
You can download Carbonite tweak from Cydia's Twickd repo (https://repo.twickd.com), where it is available for $1.29.
Mail Labeler 12 Tweak: Add Colored Labels To Mailboxes
The Mail Labeler 12 tweak tries to improve your Mail app experience by making it easier to distinguish between multiple inboxes. With this tweak you can make the Mail app highlight mailboxes based on the Mail account name, highlight emails in the color of their inbox's color, highlight email headers based on the inbox they belong to and more. Mail Labeler 12 tweak also allows users to create filters based on sender, recipient and subject.
The tweak is packed with tons of other useful features and is a must have for someone who uses Mail app as his or her primary mail app. You can download Mail Labeler 12 tweak by adding developer's repo (http://www.tateu.net/repo) to your Cydia or Sileo sources. The tweak is currently in beta.
SmartNetwork Tweak: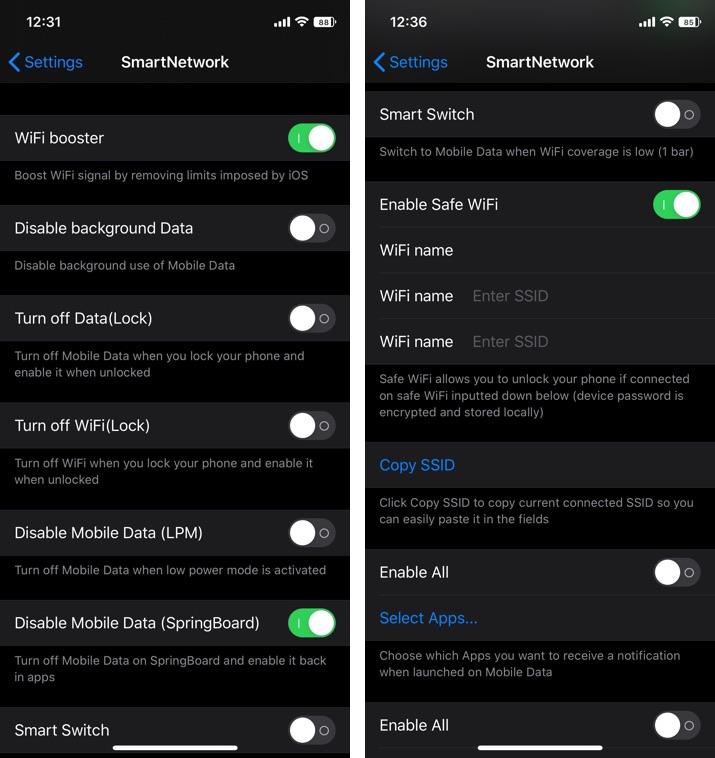 The SmartNetwork tweak takes steps to manage your iPhone's Wi-Fi and Mobile Data and give you the maximum performance, while also saving bandwidth and battery life. This tweak has two parts, the first part focuses on Wi-Fi. Once installed it searches for nearby Wi-Fi networks and fetches their passwords. Once the passwords are acquired it will display them to you. It is also capable of revealing passwords that are entered on user's device without them knowing what the password is.
The second part of the tweak focuses on both Wi-Fi and Mobile Data. Its features include the ability to notify user when they open a data intensive app while using cellular data, ability to notify user when the device has switched from Wi-Fi to Mobile Data, Wi-Fi signal booster, prevent certain apps from opening while Mobile Data is connected, turn off Wi-Fi once the device is locked to save battery life and more. You can learn more about SmartNetwork tweak's feature by going to its description page. You can download SmartNetwork from Packix repo where it is available for $1.99.
LockTouch3 Tweak: Lock Your iPhone By Tapping Its Status Bar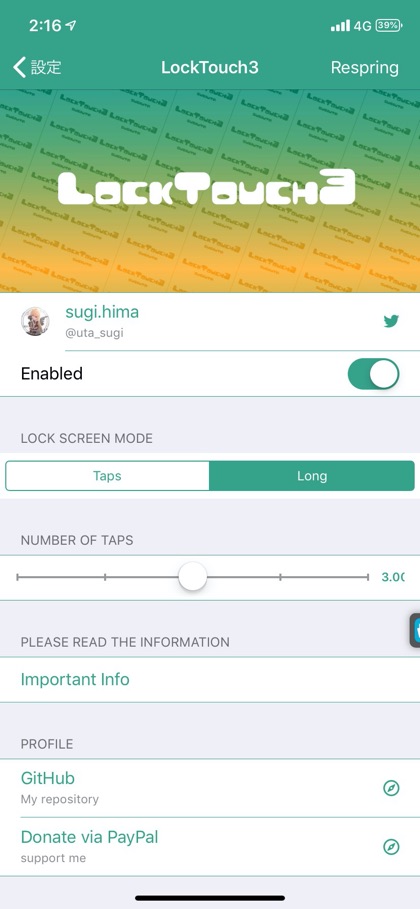 LockTouch 3 tweak lets you quickly lock your iPhone by simply tapping on the status bar of your device. The tweak also gives user the option to change the number of taps after which the device will get unlocked. In addition to taps, you can also opt for locking the device with a long press of the status bar. This tweak is great for those who have a broken side button or don't like to press it most of the time. LockTouch 3 tweak is available in Cydia for free from the BigBoss repo.
RaiseLight Tweak: Prevent Accidental Screen Turn Ons When Using Flashlight
With the RaiseLight tweak you can make your iPhone automatically disable the Raise To Wake feature while the device's Flashlight is On. In addition to this the tweak will also disable the Tap To Wake feature available on iPhone X or later while the Flashlight is On. This tweak provides a great way to prevent accidental screen turn ons when using the iPhone as a flashlight. You can download RaiseLight tweak from Cydia's BigBoss repo, where it is available for free.
playbackTheDuck Tweak: Play Video's Background Audio In DuckDuckGo App
Do you use DuckDuckGo's official app and are annoyed from the fact that it does not allow users to play video's audio while it is running in the background? Then try the playbackTheDuck tweak, which brings this much needed functionality to the DuckDuckGo's app. You can download playbackTheDuck tweak from Yourepo (https://www.yourepo.com/repo). Simply add this repo to your Cydia or Sileo sources and refresh. This is a free tweak.