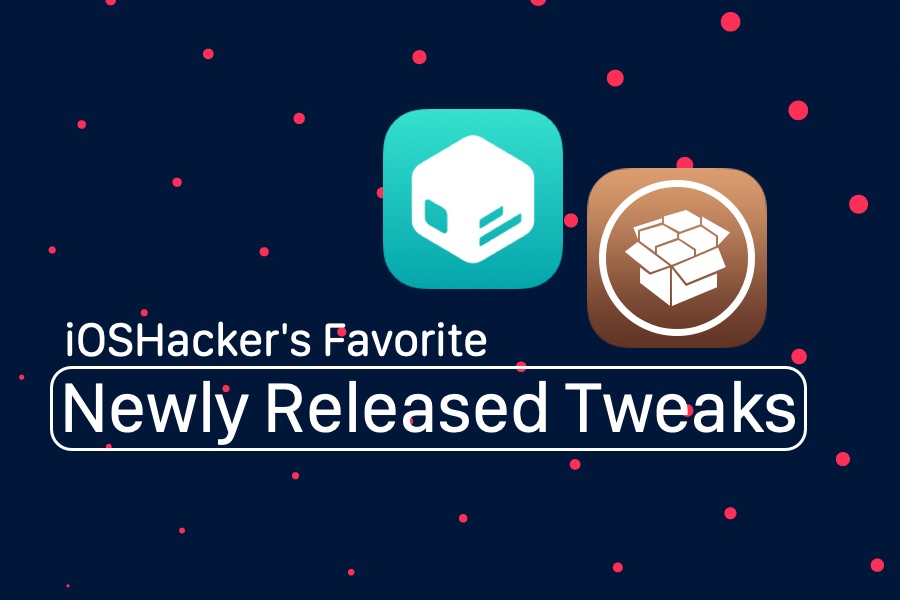 If you have been away from Cydia for a few days, then you are up for a massive treat. A bunch of amazing new Cydia tweaks for iOS 13 have been released in the jailbreak store that are designed to boost iPhone's functionality while also making iOS look more personalized according to your taste.
In this article we have featured some of our favorite newly released hacks that are now available for download on all devices taking advantage of the iOS 13 jailbreak. Today's iOS 13 compatible tweak roundup includes MeltedCrayons, Ability, RoundedDock Lite, ConfirmRotate, AZColor, CCMusicArtwork and Twitter AutoScroll. You can read all about these hacks below.
Also, don't forget to read our previous tweak roundups here at the links below.
MeltedCrayons Tweak: Add A Colorful Visualizer To Now Playing Screen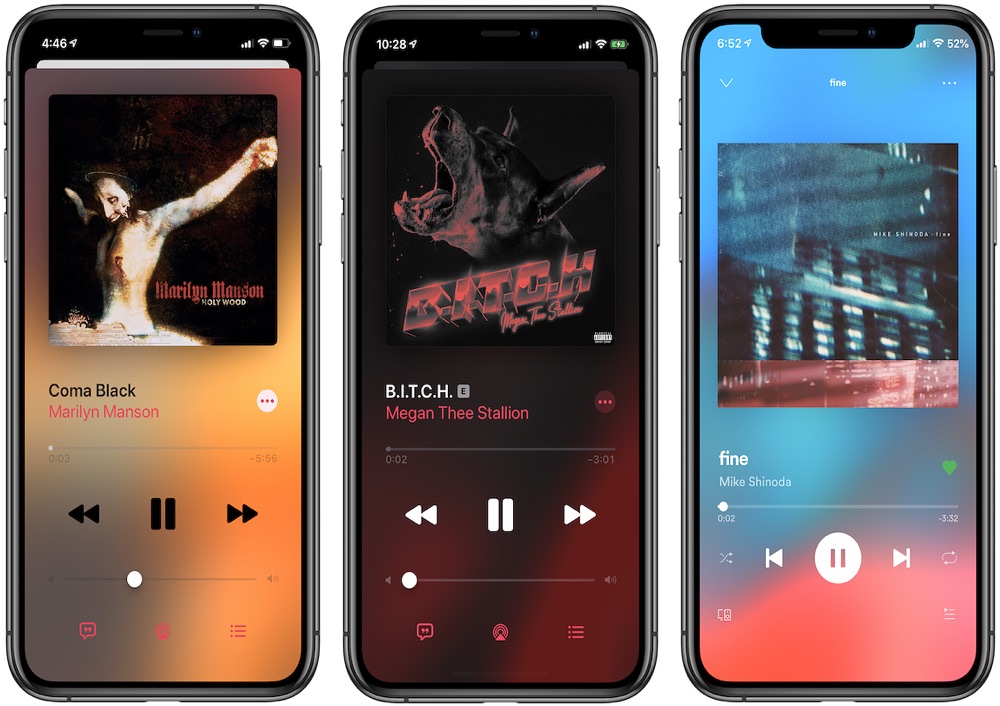 The MeltedCrayons tweak is designed to make the Music app more beautiful. It is able to do so by adding a vibrant background visualizer to the now playing screen. In addition to the stock Music app the tweak also adds the colorful visualizer to the Spotify app's music player. The tweak is compatible with all devices running iOS 13 or later. You can download it from the Twickd repo (https://repo.twickd.com) where it is available for $1.29.
Ability Tweak: Customize Reachability Feature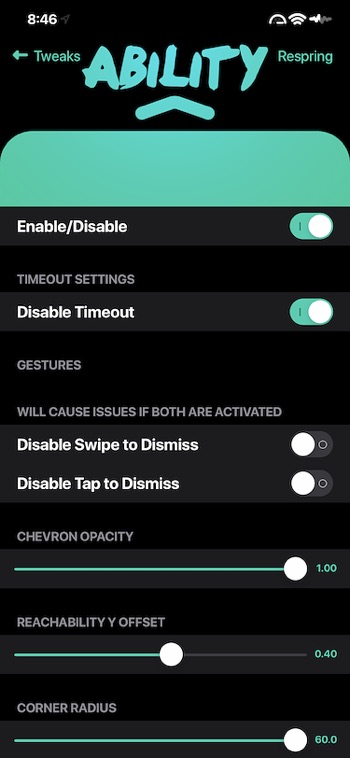 Ability tweak allows users to customize the way their iPhone's Reachability feature functions. With this tweak you can disable the Reachability feature's default timeout, disable the swipe to dismiss and tap to dismiss gestures, change the opacity of the chevron, change the Y Offset as well as adjust the corner radius of the main screen. In addition to all this the Ability tweak can also be used to enable Reachability feature on devices that don't support it. You can download Reachability tweak from Cydia or Sileo through the Twickd repo (https://repo.twickd.com) where it is available as a free download.
RoundedDock Lite Tweak: Make iPhone Dock Rounded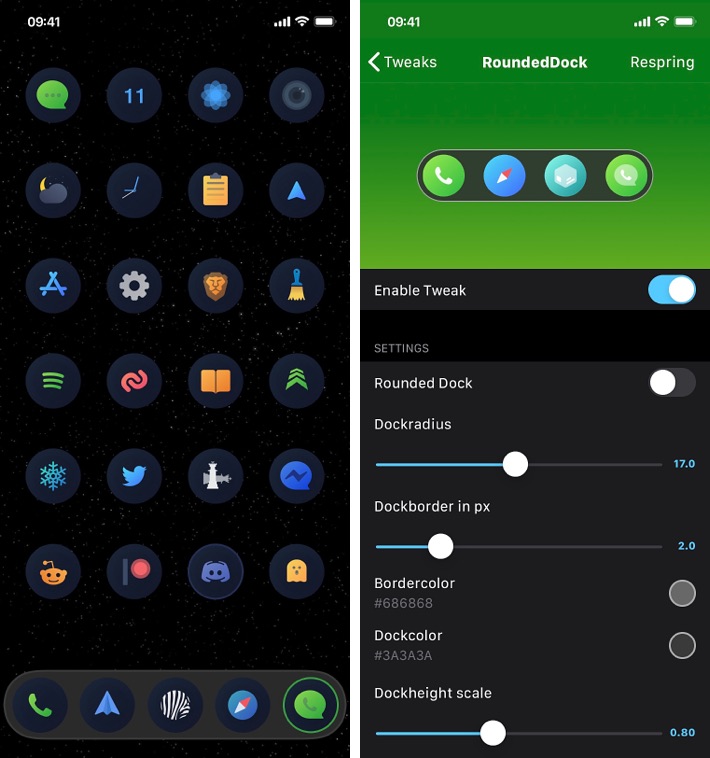 With RoundedDock tweak you can change the way iPhone's icon dock looks by making it more rounded. The tweak lets you customize iPhone dock by changing the dock's corner radius, change the border size and color, add a different color to the dock's background as well as change the height and width of the dock. RoundedDock has a big impact on how your iPhone's home screen looks and feels. You can download the RoundedDock tweak from Cydia's Twickd repo (https://repo.twickd.com) where it is available for free.
ConfirmRotate Tweak: Make Your iPhone Confirm Before Rotating Screen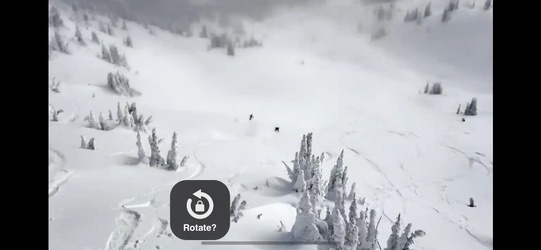 The Auto Rotate feature of iPhone or iPad is useful however it can also be a source of annoyance at certain times. For example, it can be annoying when you are lying in bed and do not want to rotate the video even though you are holding the iPhone at a tilted position.
ConfirmRotate tweak solves these issues by asking user if they want to rotate their iPhone's screen every time they rotate their iPhone. In addition to offering rotation confirmation the tweak also enables users to add certain apps in a blacklist, disable rotation animation for faster rotations and more. You can learn more about ConfirmRotate's features from the Packix repo description page. The tweak is available for $0.99.
AZColor Tweak: Add Colors To Menus, Alerts and Keyboard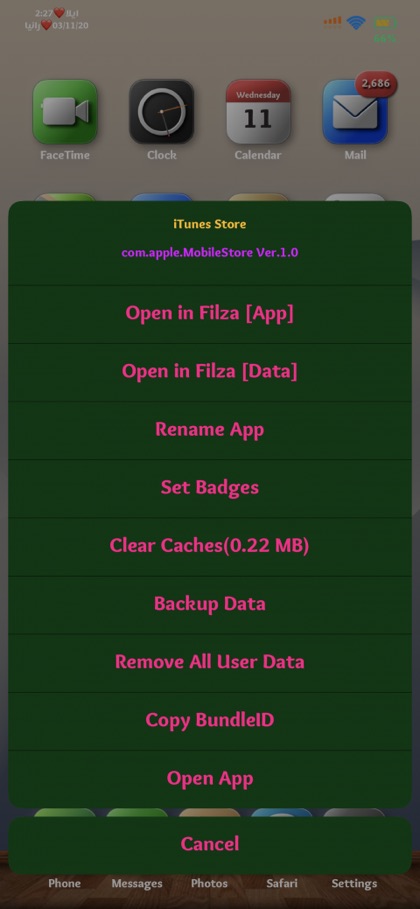 The AZColor tweak makes it possible for iPhone users to change the way their iPhone's popup menus, keyboards, buttons and alerts look. With this tweak you can change the text and background colors for various elements such as alerts, buttons, option menus, keyboard and more. The tweak works with iOS 11, iOS 12 and iOS 13. It can be downloaded from Yourepo (https://mostafa.yourepo.com/) for $1.35.
CCMusicArtwork Tweak: Add Album Artwork To Music Widget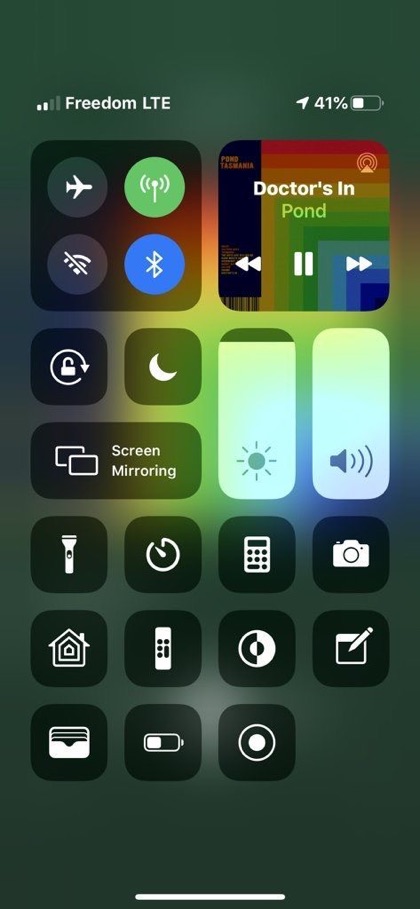 CCMusicArtwork tweak is a Control Center tweak that gives you the opportunity to customize the look of Control Center's music widget. With this tweak you can replace the boring look of the Music widget with the now playing album's artwork. The artwork is displayed as a background while the music controls and song title are displayed as an overlay. CCMusicArtwork tweak is fully compatible with iOS 13 and can be downloaded from the Packix repo for $0.99.
Twitter AutoScroll Tweak: Automatically Scroll Through Twitter Timeline
Twitter AutoScroll tweak does exactly what its name suggests, it makes the Twitter timeline scroll automatically so you don't have to scroll manually. Users get several options for the autoscroll feature enabling them to choose between slow, medium and fast options. With this tweak you can quickly read tweets in your timeline while it scrolls automatically like a teleprompter. You can pause autoscrolling by tapping on the screen any time. Twitter AutoScroll tweak is available under the Packix repo for $1.50. It works with iOS 13.3.1 or lower without any issues.
Disclosure: iOSHacker may receive a commission if you purchase products through our affiliate links. For more visit our privacy policy page.