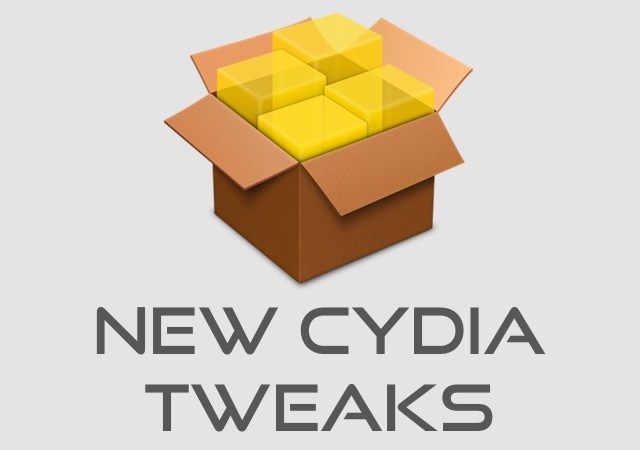 Now that most of us have more time at our hands these days, why not fire up Cydia or Sileo, whichever floats you boat, and try out new jailbreak tweaks. If you haven't paid much attention to new jailbreak releases, then you will be happy to know that a bunch of new ones with iOS 13 compatibility have been released and are now available for download.
For your ease we have rounded up these new jailbreak tweak releases, so that you can easily find the hacks that interest you. In this roundup you can find newly released Dyadic tweak, Rotaty tweak, CPUTool tweak, NotiVibe tweak, HapticMyRespring tweak, WatchMuteMirror tweak, HapticTyping tweak and SmarterLPM tweak. Read on to learn more about what these tweaks do and how you can download them on your devices.
1. Dyadic Tweak: Combine Control Center and Today View into one screen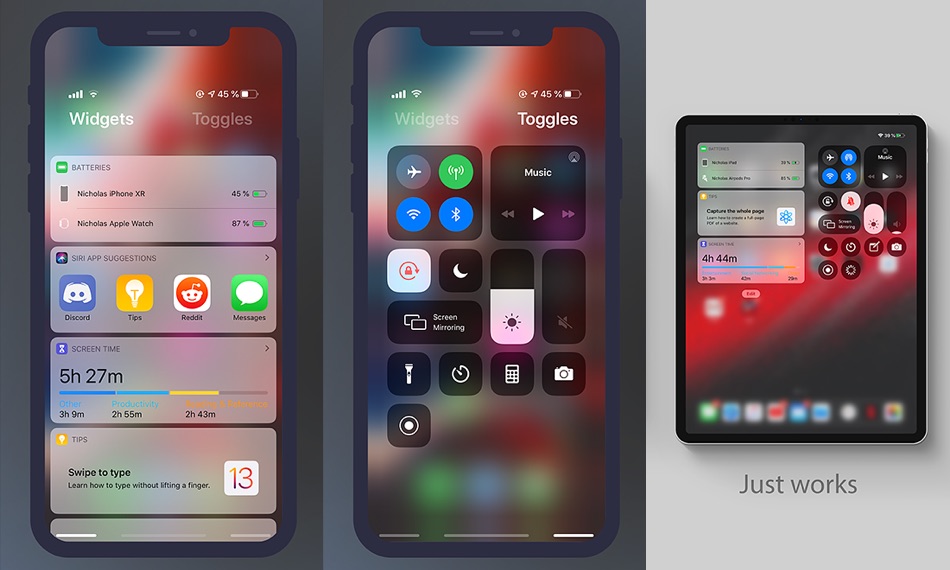 The Dyadic tweak for jailbroken devices makes iOS interface cleaner by combining the Today View with the Control Center. This tweak adds the today view widgets to the Control Center screen, which can be accessed with a swipe gesture. The tweak also removes the today view widgets from the left most home screen page to give iOS a cleaner look. On iPad both today view widgets and Control Center appear on the same page.
In addition to combining Today View and Control Center together Dyadic tweak also introduces new gestures to access the Control Center, which can be invoked by dragging up from bottom right side of the screen. Users can also drag up from left side in order to directly access Control Center's widget screen while dragging up from center will let you access home or App Switcher like normal.
You can download the Dyadic tweak from the Twickd repo (https://repo.twickd.com) where it is available for $1.99.
2. Rotaty Tweak: Rotate the home screen icons to a random degree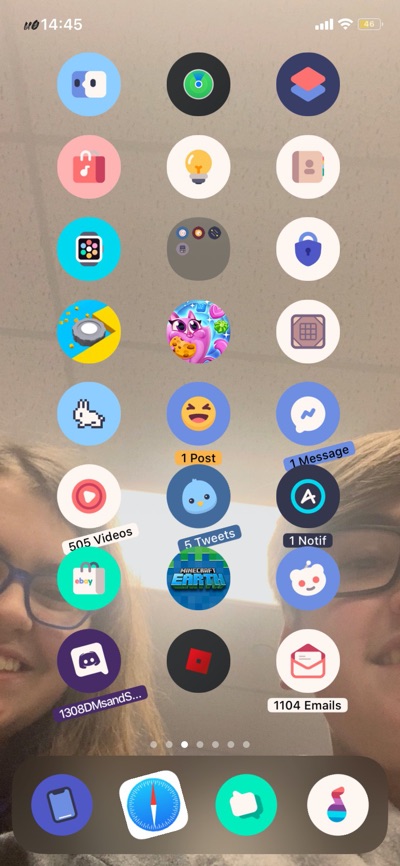 Looking to refresh the look and feel of your iPhone's Home Screen? Then try out the Rotaty tweak from Cydia. This newly released tweak will rotate your iPhone's springboard icons to a random degree, giving it a funky look. Rotaty is fully compatible with iOS 13 and can be downloaded from the BigBoss repo for free.
3. CPUTool Tweak: Change your iPhone's CPU and GPU speeds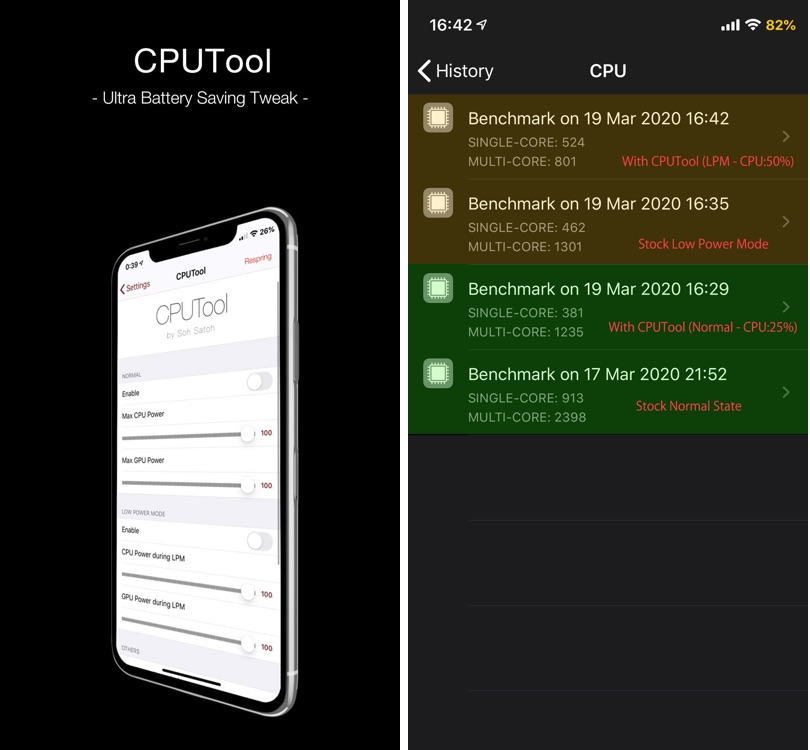 CPUTool tweak gives users the ability to optimize the performance of their iOS device's CPU and GPU. With this tweak you can change the max CPU and GPU power and customize max CPU and GPU power when Low Power Mode is active. You can learn more about how this tweak works and download it from the Packix repo, where it is available for $2.50.
4. NotiVibe Tweak: Know if you have an important notification pending without looking at iPhone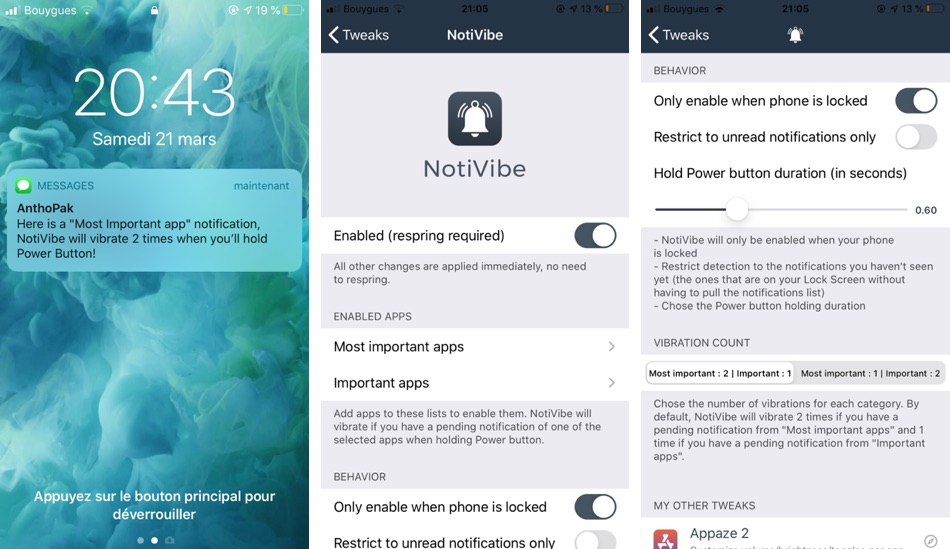 NotiVibe tweak lets you know when you have a pending notification without even looking at your iPhone. It allows users to hold down the power button to know if they have an important notification pending while the device is still in the user's pocket. If a notification is pending the tweak will make the iPhone vibrate.
Users get the ability to define which notifications are important enough to trigger a vibration when the power button is held. Users can also specify 'Most Important Apps' for which the iPhone will vibrate twice.
You can download NotiVibe tweak from the Packix repo, where it is available as a free download. It supports iOS 11 up to iOS 13 or later.
5. WatchMuteMirror Tweak: Mirror iPhone's mute switch on Apple Watch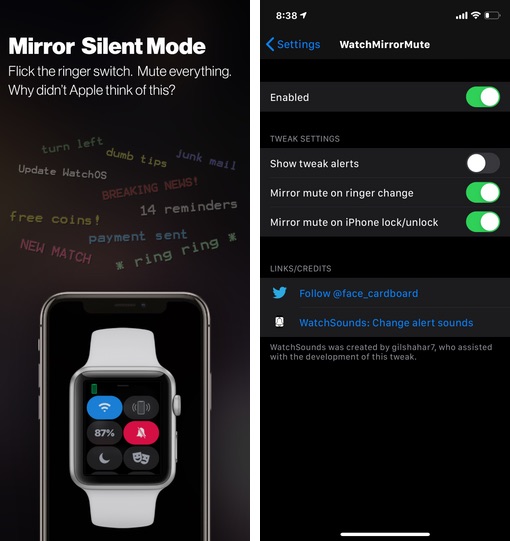 With WatchMuteMirror tweak you can mirror your iPhone's mute switch on Apple Watch, meaning your Watch will also go to silent mode when you put your iPhone on mute by moving its mute switch. This tweak is available through the Packix repo for $0.99.
6. HapticTyping Tweak: Add haptic feedback to keyboard types
HapticTyping tweak as its name suggests will make your iPhone give out a haptic feedback as you type. The tweak is available for free from developer's repo (https://repo.dylanduff.com/).
7. SmarterLPM Tweak: Make Low Power Mode Smarter
SmarterLPM is a tweak that enhances the Low Power Mode feature of iOS and tries to make it smarter. With SmartLPM you can automatically enable the Low Power Mode while the screen is off, while your device is charging and while Do Not Disturb mode is activated.
The tweak also lets you hide the low power alert. You can also make it automatically enable dark mode when Low Power Mode is enabled. Want to enable Low Power Mode when your iPhone's battery drops to a certain level? You can set a battery level after which Low Power Mode will be activated automatically and set up custom alerts for each percentage level and more.
You can also use SmarterLPM tweak to enable Low Power Mode automatically while you are using certain apps. SmarterLPM tweak is available in Cydia for free and works with iOS 13 or later. You can download it from the Packix repo.
Disclosure: iOSHacker may receive a commission if you purchase products through our affiliate links. For more visit our privacy policy page.