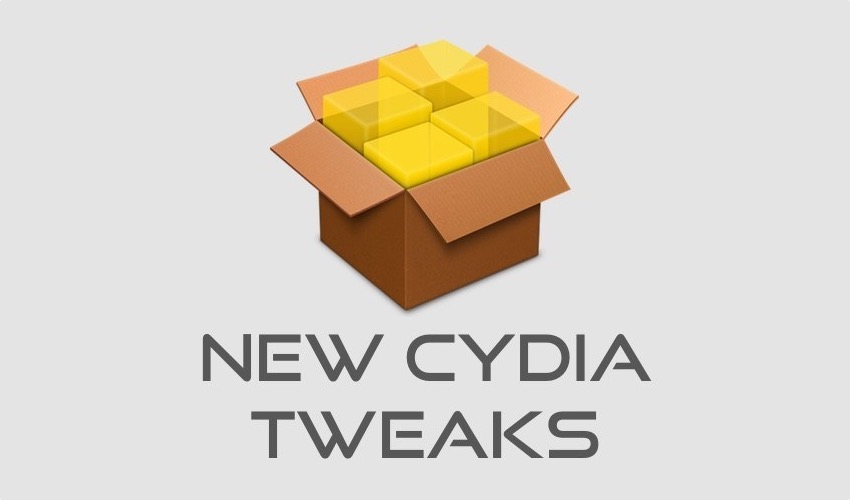 Staying at home can be hard especially when you run out of things to do. Good news is new jailbreak tweaks are here to rescue you from your boredom and improve your iPhone or iPad experience. Over the last few days a long list of new jailbreak tweaks were released in Cydia, Sileo, Installer or which ever package manager you prefer.
In this article we have shortlisted 8 of the new tweaks that we think you need to check out asap. These iOS 13 tweaks include dotto+, Folded, DNDMyRecording, TitleS, Switcher, NoDockBG, Delete All Alarms and Instagram No Ads. Read on to learn what these 8 new tweaks do and how you can download them on your jailbroken device.
dotto+ Tweak: Change look and feel of icon notification badges
The dotto+ tweak changes the way icon notification badges look, offering cool customizations that make this iOS feature more bearable. When dotto+ tweak is installed it replaces the normal red notification badges with minimalistic and unintrusive little dots.
The tweak offers a bunch of customizations too enabling users to select a color for the new badges, make the badges match app's icon color and change the color opacity. Users can also choose between color filled dot or a hollow dot like an 'O'.
You can download the dotto+ tweak from the Packix repo where it is available as a free download.
Folded Tweak: Customize folders just the way you like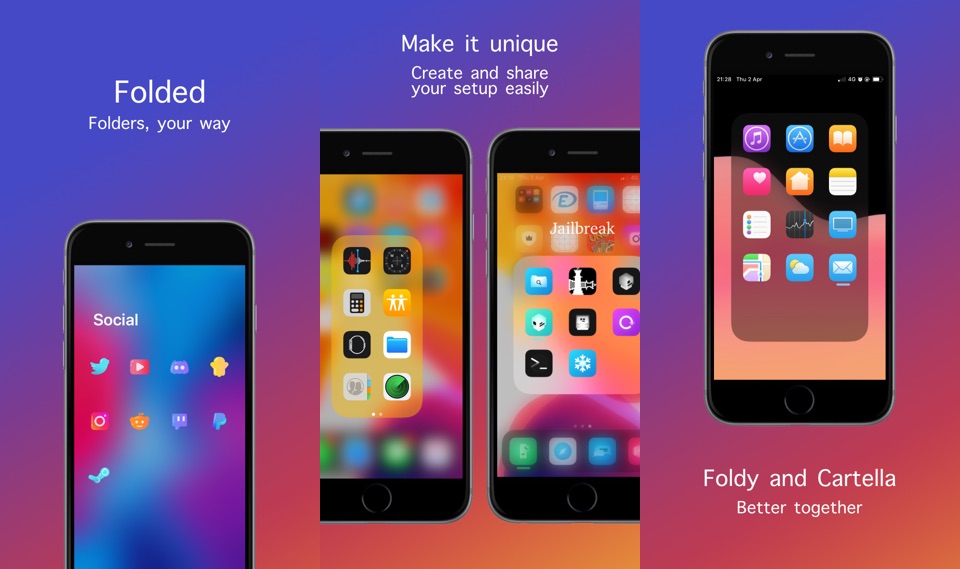 Folded tweak is an ultimate tweak for iOS folders that makes it possible for users to not only change the appearance of their iPhone or iPad's folders but also make them more useful. With Folded tweak you can choose custom layout for folders, remove the background, add a custom frame size, change the folder icon to house 2×2 icons instead of 9×9, color the folder frame, add custom wallpaper blur strength and more.
You can download the Folded tweak from Packix repo on any iOS 13 device. This tweak is available as a free download.
DNDMyRecording Tweak: Automatically enable Do Not Disturb when screen recording
With DNDMyRecording tweak for jailbroken devices you can improve the experience of using iPhone screen recording feature. When this tweak is installed, iOS will automatically enable the Do Not Disturb Mode or DND as soon as user starts screen recording. This will prevent from any notifications to interrupt your screen recording or appear inside a recording.
The clever tweak will disable the Do Not Disturb mode as soon as you stop the screen recording process. The developer of the tweak advises users to keep Do Not Disturb settings set to Always and not on 'Only while device is locked'.
You can download DNDMyRecording tweak from Cydia's Packix repo where it is available for free.
TitleS Tweak: Personalize the Settings app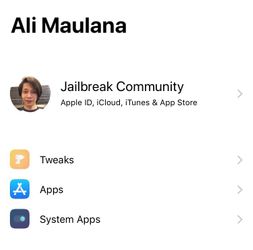 TitleS tweak allows users to change the look of their iPhone's Settings app by enabling them to add custom text to the navigation bar, large title and the Apple ID text. The tweak is available as a free download.
Switcher Tweak: Add an app quick launcher to any screen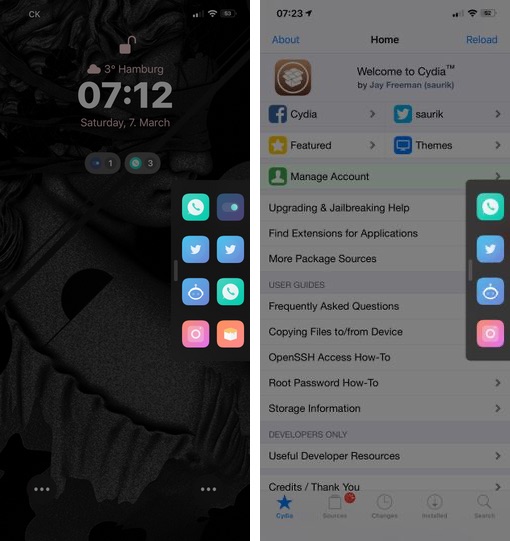 Switcher tweak brings an app quick launcher to all screens of iPhone and iPad (except the lockscreen) to make it easier for users to launch their favorite apps. Users can add up to 8 app icons to the Switcher by manually adding them or making Switcher automatically add your 8 most recent ones. In order to access Switcher you simply have to tap on the status bar.
Switcher tweak is available under the Packix repo and can be downloaded for $1.99.
NoDockBG Tweak: Remove icon dock's background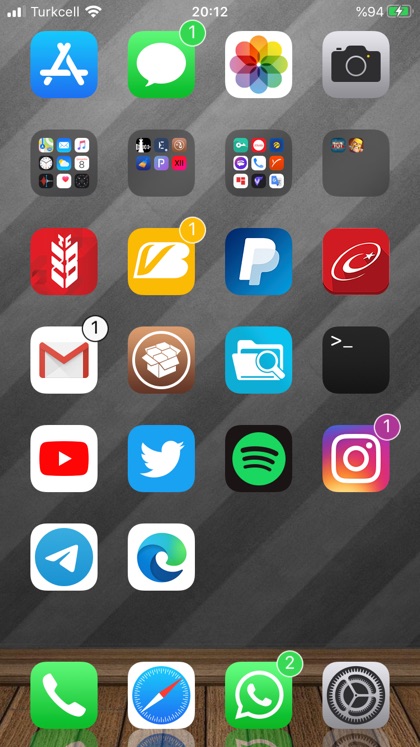 The NoDockBG tweak for jailbroken devices focuses on changing the look and feel of the iPhone dock. With this tweak you can completely remove the icon dock's background and add a reflection effect to the stored icons. This is a free tweak that is available through Packix repo.
Delete All Alarms Tweak: Easily delete all alarms in Clock app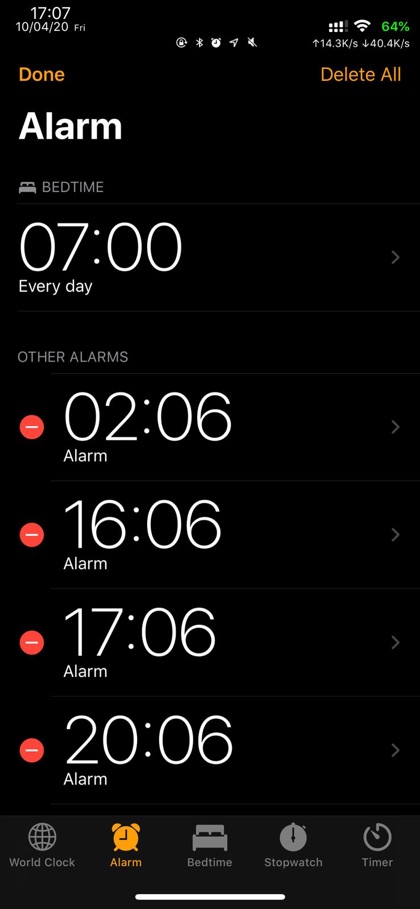 Delete All Alarms does exactly what its name suggests, it allows users to quickly delete all alarms within the stock Clock app with a tap of a button. This tweak adds a dedicated Delete All Alarms button to the Alarm section of the Clock app, which lets users delete all alarms except the Bedtime alarm super conveniently.
You can download the Delete All Alarms tweak from the BigBoss repo where it is available as a free download. This tweak is compatible with iOS 12 and iOS 13.
InstagramNoAds Tweak: Make Instagram Ad-Free
InstagramNoAds tweak improves the Instagram app experience by removing advertisements from the app. After installing InstagramNoAds you will be able to enjoy Instagram ad-free as the ads will no longer appear on the newsfeed and story features. InstagramNoAds tweak is available through the BigBoss repo for free. It works with iOS 12 and iOS 13.