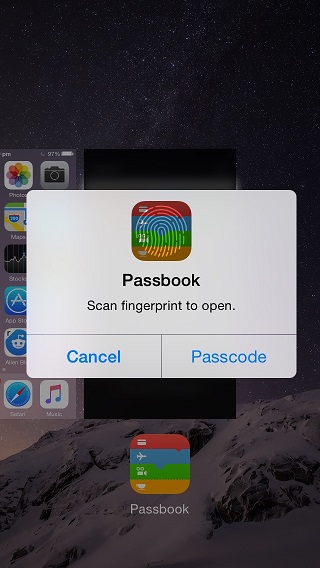 iOS by default only allows you to add fingerprint or passcode protection to the whole device, however there's no way to protect individual apps. That changes if you install the Asphaleia 2 from Cydia. With this tweak installed you can put Touch ID protection to any app you like and require the user to authorize through fingerprint before an app can be accessed. This hack is super useful as it lets you protect apps that contain your personal data such as Photos, Mail, Contacts, social apps and more. You can protect any stock or third-party app with Asphaleia 2.
In addition to fingerprint scan you can also have passcode based authentication. The tweak is not limited to apps though as it also lets you make the device ask for fingerprint scan when someone tries to turn the device off, change arrangement of app icons, access app switcher, Control Center or Spotlight.
The best thing about Asphaleia 2 apart from the features mentioned above is the seamless integration within iOS and the smooth animations, that make it feel like a default iOS functionality.

Asphaleia 2 does not add the protection to any app or service right away as you can configure the interval times and change unlock behaviors. You can also assign specific fingers to specific apps if you like. To add any app into the list of 'Secured apps' you can perform an Activator gesture while using it or add an app through Settings.
Asphaleia 2 works with all versions of iOS 8 including iOS 8.4. You can download it on your jailbroken device for $1.99.