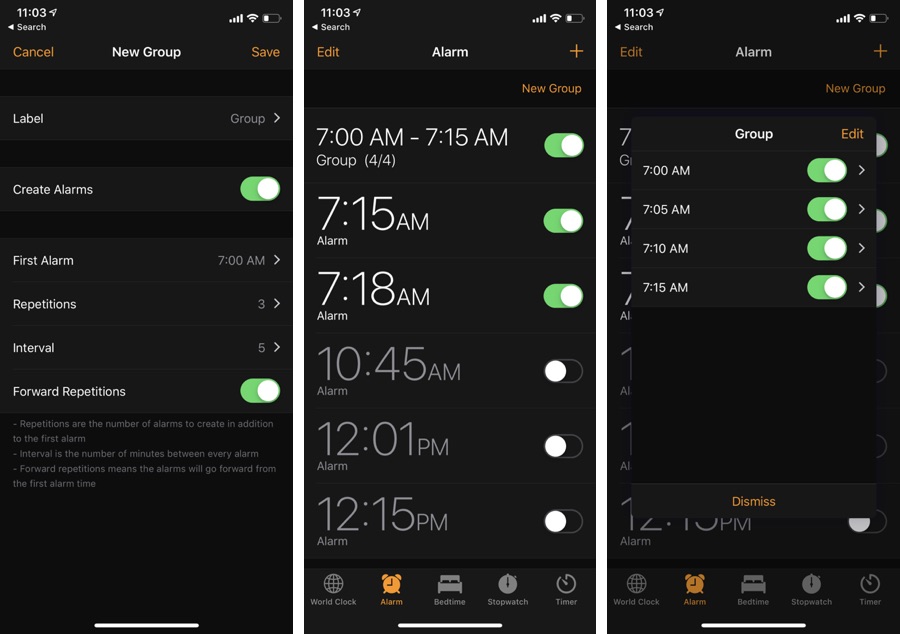 Many of us who find it difficult to wake up early in the morning tend to create multiple alarms at different intervals of time, in order to make it easier for us to fully wake up. If you are one of these people, then we have got the perfect iOS 12 tweak for you. AlarmGroups makes it possible for users to create alarm groups that ring at intervals of user's choice.
While normally you would have to set up multiple alarms on your iPhone if you wanted them to ring at your desired intervals, with AlarmGroups tweak you can create a single alarm group and specify the time interval you want the alarm to ring at. For example, you can create an alarm for 7:00AM and make the tweak have 3 alarms that ring at the intervals of 5 minutes. Once you have created this particular alarm group, Clock app will automatically create three alarms which will ring at 7:05AM, 7:10AM and 7:15AM in addition to the 7:00AM alarm. All of these extra alarms will be part of the newly created group and will not add clutter to your Alarm screen.
You can create an alarm group by opening Clock app's 'Alarm' screen and then tapping on 'New Group' option. Then tap on 'Create Alarms' toggle to create alarms. Next you can specify the time for the First Alarm and choose the number of times you want an alarm to repeat. And then enter the interval of minute between each alarm.
With this tweak you can also create alarm groups for your existing alarms. So if you have several alarms that all ring at any particular day of the week you can add them to a new group by swiping left on an alarm and selecting a group you created specifically for them.
AlarmGroups tweak not only removes clutter from your iPhone's Alarm screen by grouping multiple alarms but also makes it easier for you to disable or delete alarms, as disabling or deleting an alarm group will also delete all alarms under it.
AlarmGroups is a super useful tweak and offers a functionality that should have been part of the iOS Clock app by default. You can download AlarmGroups tweak for free by adding developer's repository (https://apt.fouadraheb.com) to your Cydia Sources. It is compatible with iOS 11 and iOS 12 powered devices.