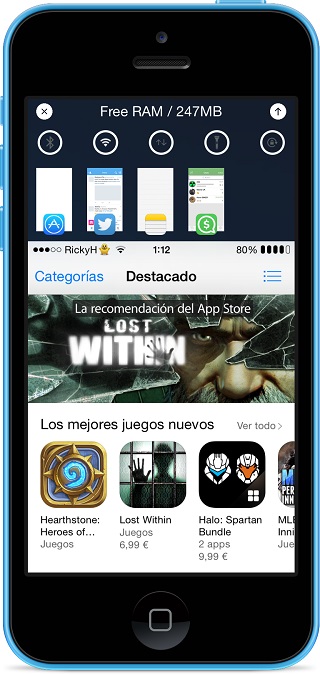 The empty space Reachability view leaves on iPhone bothers many users, so much so that there's a long list of Cydia tweaks that attempt to make use of it. One new tweak called Alternatum tries to make Reachability view's empty space useful by turning it into an app switcher complete with app preview cards and Control Center like Settings toggles. The tweak also displays how much RAM is free on a device on the top.
Although it features miniature versions of the app cards compared to the normal iOS multitasking screen, they work exactly like the larger ones. You can swipe right to left to access more apps, swipe up to close one and tap on the app's card to access it. You also get a convenient way of closing all running applications. Alternatum integrates Flipswitch tweak in the Reachability view and shows toggles for Bluetooth, WiFi, Flashlight and more.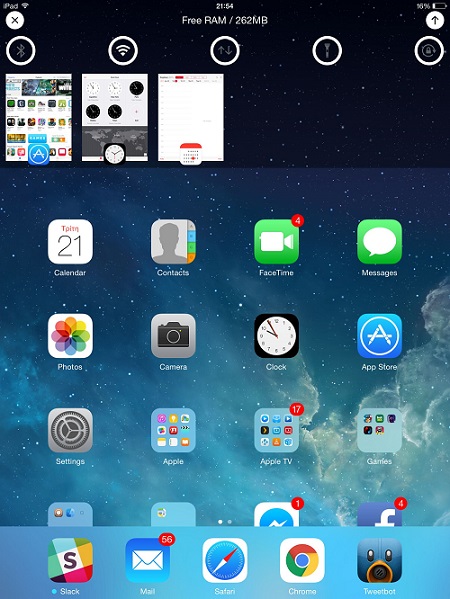 In addition to iPhone 6 and iPhone 6 Plus the Alternatum tweak also features support for iPad and older iPhone models. Users can assign an Activator gesture to Alternatum and invoke it just the way they like. Since Alternatum is not actually replacing your normal app switcher you will still be able to access it in the normal way.
You can download Alternatum tweak from Cydia's ModMyi repo for $1.