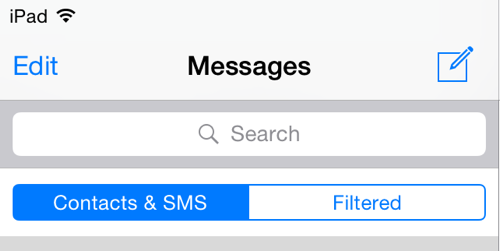 In today's digital world spam is no longer limited to email only as we get these annoying messages on social apps as well. iMessage is no exception as spammers have now started to take full advantage of its ever growing popularity. The situation got so out of control that now Apple has added a dedicated spam filter in Messages application that you can enable from the Settings app. The filter was added in iOS 8.3, so if you have an iPhone, iPad or iPod touch running iOS 8.3 or later then you can enable this feature by following the steps below.
1. On your iOS device open Settings and tap on the 'Messages' option.
2. On the next screen you will find an option called 'Filter Unknown Senders'. Enable it.
That's it, now iMessage will put all the messages coming from numbers or emails that are not in your contacts in a separate tab. To access these messages you simply have to tap on 'Unknown Senders' tab. From there you can read these messages, mark them as junk or simply delete them. iOS also sends the information of spammers to Apple so the company can control the miscreants from its end.
Even though this feature makes the life of an iOS user easier beware that it is not your usual email spam filter. Any message no matter how important it is will go to the Unknown sender tab if the person sending it is not in your address list. So even after enabling this feature make sure you check both tabs regularly.
Disclosure: iOSHacker may receive a commission if you purchase products through our affiliate links. For more visit our privacy policy page.