Today we have two App Library tweaks that are compatible with iOS 14 or later. These tweaks that includes App Library Controller and App Library Disable allow users to take more control over iPhone's App Library feature.
One of the headlining new features introduced with iOS 14 was App Library. When it comes to App Library users either seem to love this new feature or simply hate it. No matter which side of the App Library debate you are on, we have got the perfect iOS 14 tweaks that will make your life more conveneint.
Today we are featuring the App Library Controller tweak and the App Library Disabler tweak. With App Library Controller you can change certain aspects of the App Library feature and gain more control over it.
Whereas App Library Disabler is a simple tweak that lets you get rid of the App Library feature and screen.
Let's take a look at these two iOS 14 App Library Tweaks for jailbroken devices…
App Library Controller Tweak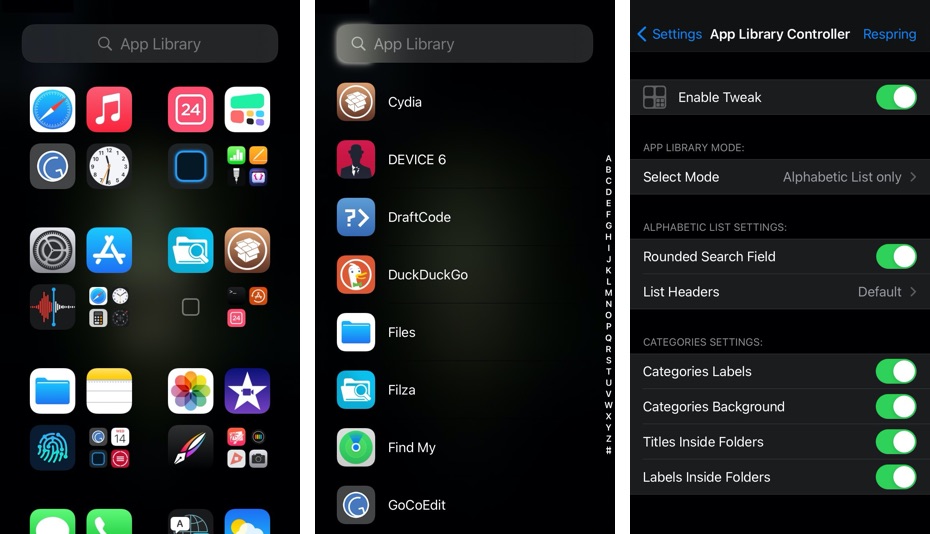 App Library Controller tweak for jailbroken devices gives users more control over the App Library feature of their iPhone. With this tweak you can choose between certain modes of App Library and choose the one you prefer more. For example, with this tweak you can choose to show Alphabetic List view as default or see the Categories view. You can even disable the App Library screen if you like.
Using App Library Controller Tweak you can change the way App Library app list view appears by enabling or disabling rounded search field and list headers. For Categories you can change the labels for categories, hide labels, change background of categories, change or hide titles inside folders and more.
You can download the App Library Controller tweak from the BigBoss repo for free. You need iOS 14 or later to use this tweak.
App Library Disabler Tweak
The App Library Disabler tweak for jailbroken devices makes it possible for users to simply disable App Library feature of iPhone. After installing this tweak the App Library page and all of App Library features will be removed from your device, and you can use it just like you could on iOS 13 or later.
You can download App Library Disabler tweak from the BigBoss repo where it is available as a free download.