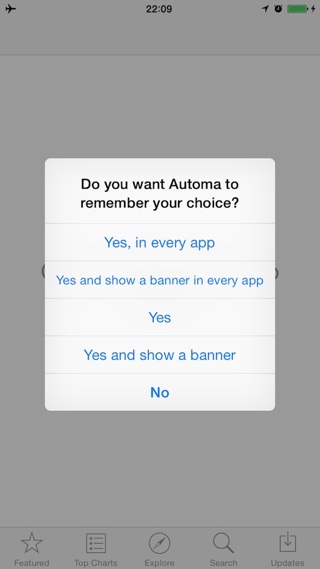 We all get tired of repeating iOS popup alerts that ask us the same question every time we try to perform some task on our iPhone or iPad. By default iOS does not remember what you did when the same popup appeared the last time, so it asks every single time. The new Automa tweak makes things significantly less annoying by making the device remember the option you selected the first time you received the popup, granted you want it to. Once it has recorded your choice it will automatically re-select that same option without requiring you to get distracted with a popup and tapping again.
The best thing about Automa is that it does not forces itself onto you. When you get a new popup alert you have two options. You can either tap on the button of your choice just as usual and continue using the app. The second choice is you can tap and hold on the alert until you get the Automa menu. This menu lets you choose the action you want to perform on that particular alert. This includes ability for users to make the tweak remember his or her choice for that alert, remember and apply every time the popup appears and also tell the user that the popup has been auto dismissed with a banner notification etc.
With Automa you get the option to redirect the popup alert's content to a less intrusive banner alert. Automa also adds a new gesture that allows users to dismiss a notification by swiping and dragging it out of the screen.
You can download the Automa tweak from Cydia for $1.99. It full works with iOS 8 and iOS 9 powered devices.