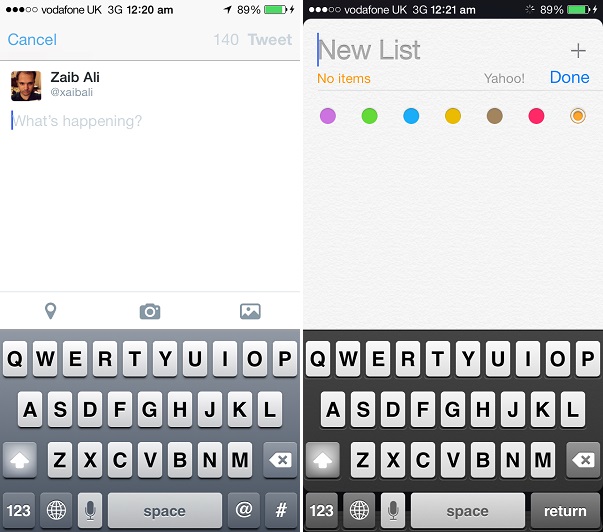 Yesterday we told you about a way to improve the performance of iOS 7 keyboard and make it better. But what if you don't want to improve the existing keyboard and want the look of good old iOS 6 keyboard back on your iOS 7 powered device. If that is the case then a new tweak by Ryan Petrich called Vintagekeys has got you covered. With this simple hack you can get rid of the redesigned keyboard introduced in iOS 7 and go back to the old look that had been part of iOS since its birth.
The tweak not only brings keyboard's old look back but it also gives users choice to choose from a number of available options including legacy dark, legacy light, modern dark and modern light styles. Since you cannot apply the custom keyboard styles system-wide, in order to activate them you have to go to tweak's settings and select them for each app individually. While it requires a lot of effort to cover all the installed apps it does have a silver lining as you can choose different keyboard for different apps, based on their UI.
The good thing is VintageKeys is not limited only to stock apps as you can choose iOS 6 keyboard for third-party apps as well.
If you like the idea behind this hack and would like to get the vintage iOS 6 keyboard on your iPhone, iPad or iPod touch then simply head to Cydia and download VintageKeys. It is available for free under Ryan Petrich's repository.