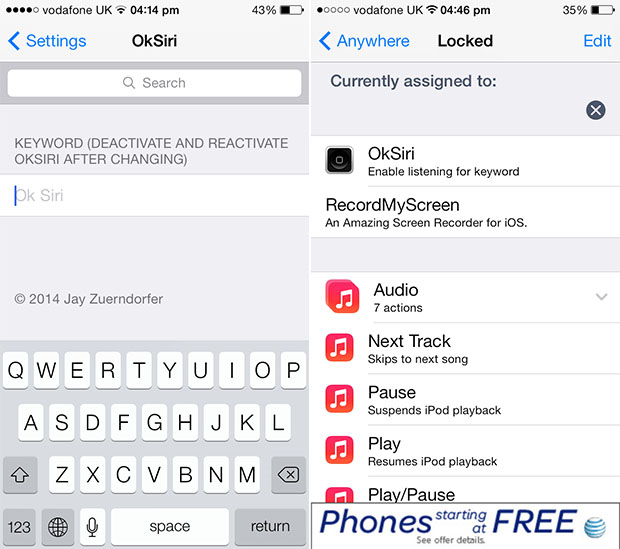 Many of us don't use Siri due to the simple fact that there's no intuitive way to use this digital personal assistant. You have to press and hold the home button to activate it. A new tweak called OkSiri changes this by invoking Siri to listen to your commands by just saying 'Ok Siri'. This is yet another milestone by jailbreak community, the community that is bringing all the goodies to iOS devices that Apple didn't. The idea is inspired by the Google's command 'Ok Google' that allows you to perform hands free search on Android devices. 'Ok Google' command is also available on iOS but is limited to Google Search app.
OkSiri enables always-on voice recognition on your iPhone, iPod touch and iPad running iOS 7. Here's how it works, lets say you want to check the latest weather conditions. You will say 'Ok Siri' to activate Siri followed by "What's the weather for today?" to get the required updates.
You can get the OkSiri for free from Cydia. However you will need a couple of steps to make it work. First you will have to set a keyword in the Setting of OkSiri (shown above) e.g. 'Ok Siri' or any other keyword like 'Hey Siri' etc. to invoke it. Secondly you will need to assign an activator gesture to enable/disable the OkSiri tweak. This can be done through Activator settings. Enjoy the hands free communication with your personal digital assistant.