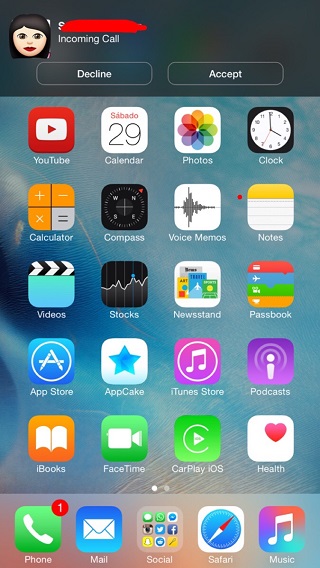 When you receive a call on your iPhone, the call screen covers the whole display until the phone is ringing. In the meantime you cannot continue using your device. So you either have to decline the call or wait for the phone to stop ringing, in case you don't want to pick it up. The new CallReply tweak, which is still in beta solves this problem by displaying a banner that shows 'Accept' and 'Decline' buttons. The banner just like a notification alert appears on top of the screen without covering the whole interface.
Unlike normal you can accept or decline the call through CallReply or simply let the phone ring while you continue using the app or any part of iOS as usual. Another use of this tweak is that when you accept a call using CallReply's Accept button, you can still continue doing whatever you were doing before as the call will be picked up in the background. The device will show the default green bar indicating call is in progress.
In addition to normal calls CallReply also supports Facetime video and audio calls. And as it is from developer iMokhles, we believe WhatsApp calling support will be added soon, as he has an obsession with the app. We really look forward to that as well.
CallReply is a useful hack that can make the life of iOS users easier. It offers a distraction free experience of receiving calls on your device. As mentioned above the tweak is still in beta and is available through developer's private repo. Add 'http://apt.imokhles.com/' to your sources in order to download it for free. [Img]