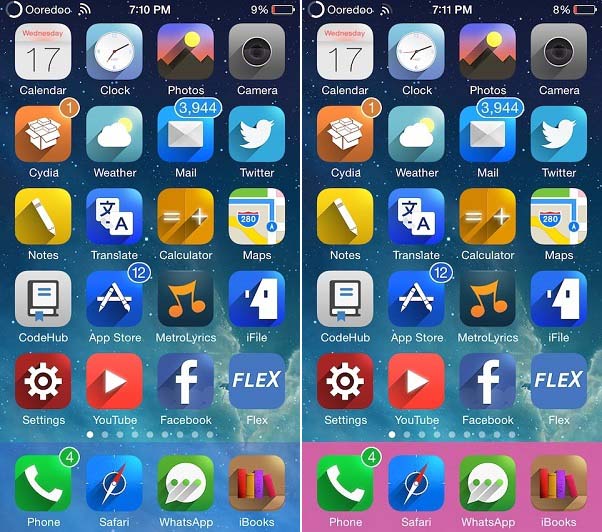 iOS dock features a whitish background blur that covers the area behind the icons. This background separates the dock from rest of the homescreen, giving it a distinctive identity. The dock is an integral part of the iOS experience and one of the most visible as well. Since you can't change much about this part of the operating system you are left with what Apple's design wizards designed for you. Unless your iPhone is jailbroken, as you can download a variety of tweaks that can dramatically change the way dock looks and functions.
A new tweak called DockColor does exactly that by enabling users to change the background color of iOS dock to color of their choice. Instead of giving you limited options of colors that you choose from, DockColor offers a RGB slider tool that you can use to create the one that suits your iOS set up the best. This can be a color matching your WinterBoard theme, something that is more close to your wallpaper or a color that matches the color of your dock icons.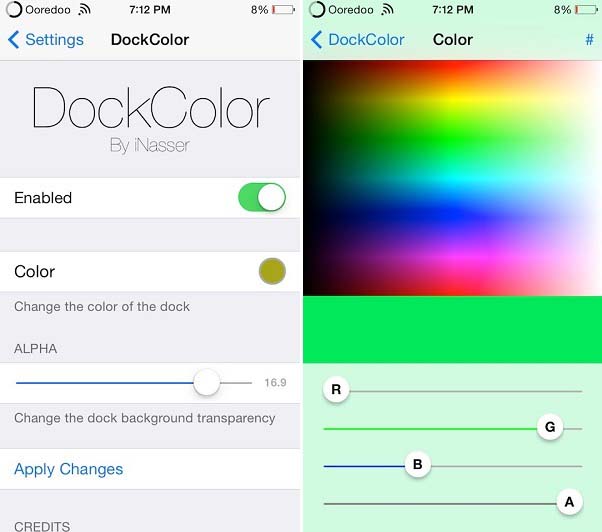 From preferences you can also change the background transparency of the dock using the alpha slider. After doing so you have to tap on the 'Apply Changes' button.
Also try: RoundDock brings OS X Yosemite like dock with rounded edges to iOS 8
DockColor is a nice tweak that lets you change a major visual aspect of your device. You can get it from Cydia for free. It supports both iOS 8 and iOS 7.