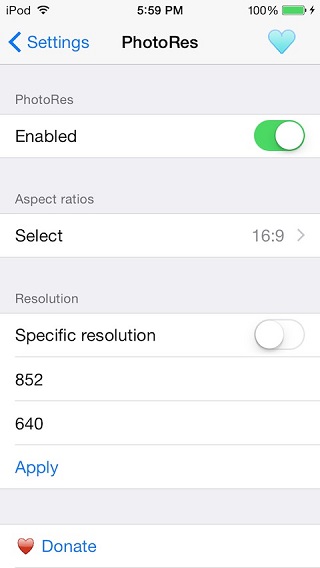 For people who want their photos taken in a different resolution than iPhone or iPad's default setting or need to change the aspect ratio of pictures taken with an iOS device, doing these tasks can be time and effort consuming. Luckily a new jailbreak tweak called PhotoRes makes doing these tasks a lot easier by enabling users to choose a specific resolution as well as a custom aspect ratio. Users can change these settings by simply going to tweak's preference page. The changes made with this tweak are applied to the stock Camera app.
Users can set any resolution for your images up to the maximum of 3264 x 2448 pixels. The good thing about PhotoRes is that it is very convenient to use as once you are done with a resolution or aspect ratio you defined earlier you can return to the original by simply turning it off using the kill switch. If you only want to change the aspect ratio while keeping the resolution to maximum, you can also turn off the resolution function while still keeping the custom aspect ratio, which makes the tweak more useful.
PhotoRes supports all recent versions of iOS including iOS 6, iOS 7 and iOS 8 running on all devices. You can download the tweak from Cydia's BigBoss repo for free.