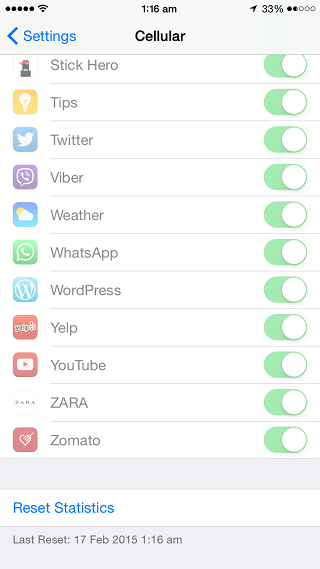 For those of us who use cellular internet a lot and have limited monthly data allowance, knowing how much bandwidth has been consumed and how much is left can be very crucial. In Settings app iOS has a dedicated section under 'Cellular' menu that shows current cellular data usage. It also lists the installed apps and tells the user how much cellular data each app has consumed. This information is only relevant if it covers a specific time period. To get that you can reset data usage stats whenever your monthly cycle ends and new one starts.
Doing this manually is easy, however if you are looking for a much superior way then the new tweak called ReStats can help. It allows users to set a custom timeframe after which the tweak will reset the data usage stats for individual apps as well as of the whole device.
From tweak's settings you can set it to reset stats on daily, weekly or monthly basis. For people who want to use this tweak specifically to know when they are about to run out of available bandwidth the monthly option is most suitable.
You can download the ReStats tweak from Cydia for free. Options can be configured from the Settings application.