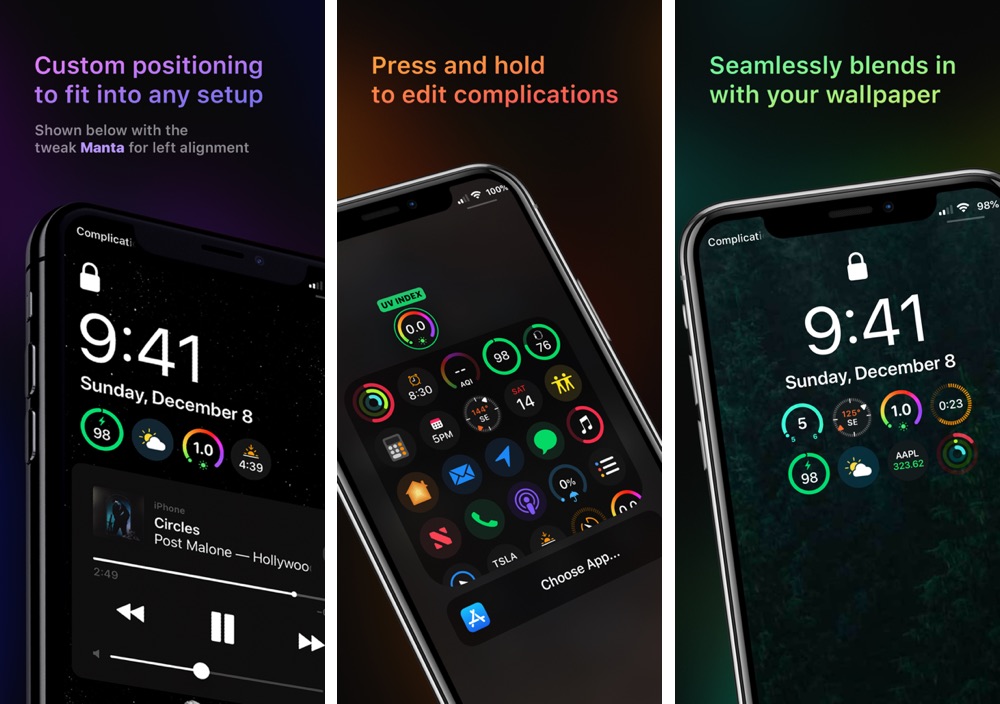 The popular Complications tweak for jailbroken iOS devices has received a major update that brings a number of new features and complications to the tweak. For those of you who don't know what Complications does, this clever tweak brings watchOS watch face like complications to the iPhone lockscreen, enabling users to access information from within apps and quickly launch apps without unlocking their device with slide up gesture.
With the latest update Complications tweak has gained new features that includes two brand new complications for Compass and Stock apps. Now users will be able to add a fully functional Compass and Stock complication to the lockscreen.
In addition to getting two new complications a bunch of new shortcut complications have also been added in this release. Now users can also add shortcut complications for apps like Calculator, Podcasts, Reminders and Voice Memos. By tapping on these shortcut complications users will be able to quickly launch these apps right from the lockscreen, saving the precious time and effort. These new complications and shortcuts can be accessed by long pressing on a complication.
In addition to the newly added Complications users can add complications for Activity Rings, News, Phone, Battery, Alarm, Reminders, Calendar, Music, Sunset, Sunrise, Stopwatch, Weather, Friends, Mail and more.
Other changes for the Complications tweak in this release include bug fixes for a number of issues, AppList is no longer required, the selection menu should appear even on locked devices and more. You can learn more about the changes on Reddit here.
Complications 3.0 with new features and improvements is available to all users  who own the tweak already for free. For those of you who have not purchased it previously, it is available for $1.99 under the Packix repo. The tweak works with iOS 12 or later and is compatible with iOS 13.