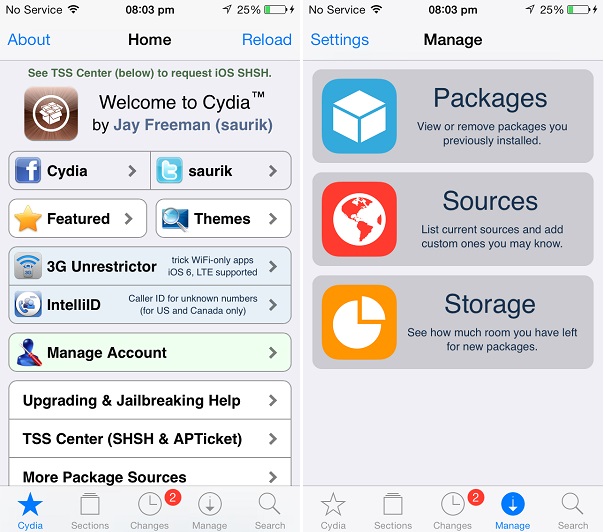 Cydia store has received a massive update today that brings a complete new look that has been designed for iOS 7. The updated version of the store is now available for download as an in-store update. If you have a jailbroken iOS 7 device then head over to Cydia and download the latest version.
You will find the update in the 'Changes' section of the store. You will have to upgrade the Cydia installer and UIKit, which will show up in available upgrades section of the page.
The new Cydia for iOS 7 looks really nice and features completely new icons and UI elements. This is the first major redesign the jailbreak store has received since its first introduction. The menu bar icons for the new iOS 7 Cydia were designed Surenix while UI icons were designed by Kyle Matthews.
Evasi0n 7 jailbreak that was released a couple of days ago came with a Cydia that was not fully supported with iOS 7 and featured the iOS 6 design. Cydia's creator Saurik tweeted that he was not aware of the sudden release of Evasi0n 7 and will release the update in the store soon, which he has delivered today.
I want to make certain a big thank you goes out to @rpetrich, @Surenix, and @kylematthews, without whose help Cydia 1.1.9 would have sucked.

— Jay Freeman (saurik) (@saurik) December 24, 2013
The new Cydia features a simple and flat design to match iOS 7, which looks pretty great. Also compared to the iOS 6 version this Cydia seems to perform faster.
Saurik explains that because he had to release the new Cydia through a package and not as a bundle with Evasi0n 7 tool it has been designed to work on all versions of iOS.
Due to evasi0n 7 having been released with an unofficial build of "Cydia", I had to upgrade Cydia via a package. This is more complex, as packages I release in my repository have to work for all users, not just those on the latest firmware. I have managed to get Cydia 1.1.9 working on iOS 2-7.
This means all versions of iOS run Cydia 1.1.9, which is remarkable.
iOS 7 Cydia Gallary: