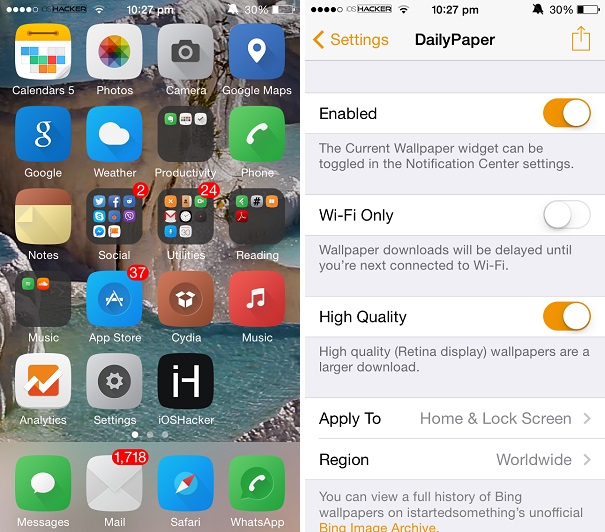 Are you someone who easily gets bored of the wallpaper on his or her iOS device, but don't like changing it again and again? If yes then the perfect tweak for you has been released in Cydia and is now available for download. DailyPaper is a simple hack from Hashbang productions, which automatically downloads and applies a new wallpaper everyday without requiring any effort from the user. It comes with several useful features that give full control to the user allowing them to configure how it behaves.
DailyPaper downloads a new photo each day from Bing search engine and applies it on your homescreen as well as the lockscreen. From Settings you can configure the tweak to apply wallpaper on both or just one of these screens. To learn more about the photo that is applied on your device you can head to the Notification Center's 'Today' view and see the information under 'Current Wallpaper'. There you can find the location of the photo and its source.
You can also set DailyPaper to download wallpapers when you are connected to WiFi. You get to select your region so the tweak downloads a new wallpaper at midnight according to your timezone.
The team behind DailyPaper has promised improvements in future updates that includes support for new wallpaper sources such as Reddit, Flickr and National Geographic.
You can download this tweak from Cydia for free.