If you go to Mobile Data section of the Settings app, you will notice that iOS shows a long list of apps and System Service that are using cellular data on your iPhone. Although this list is pretty elaborate it is still missing a number of other things that may be consuming internet data on your device including system apps, processes and daemons. The new DetailedCellularUsage tweak unlocks this hidden information giving you a complete picture of what's using your cellular data.
This tweak will not only tell you how much data these items are using, but it will also give you the ability to turn off the permission for them. DetailedCellularUsage will add new and previously hidden items on both normal Mobile Data Usage list and the System Services list that can be accessed by scrolling down.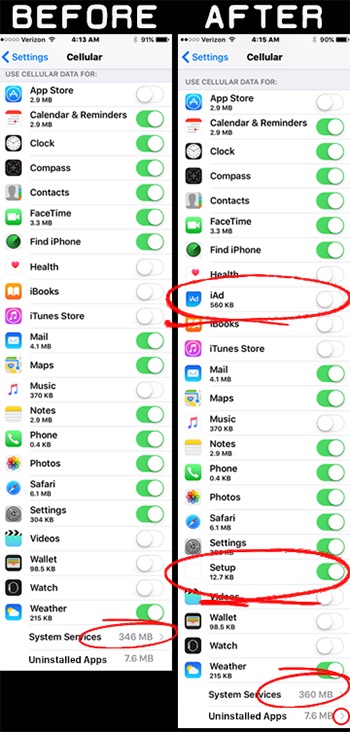 Some of the items that are added after this tweak include iAds, Setup, appstored, findmydeviced and more.
The DetailedCellularUsage tweak is available in Cydia with support for iOS 9.x up to iOS 10.2. After installing it you will need to enable it by going to its Settings section. Once you have enabled the tweak, you will need to kill the Settings app from the App Switcher and relaunch it. DetailedCellularUsage tweak is available for free under the Bigboss repo.