iOS 7 brought a different look to iPhone and iPad's dock by adding a glassy background to it. This background is similar to the one found on the very first versions of iOS, which also had a different background for the dock than rest of the homescreen. It is helpful in seperating the dock from the homescreen. While some people liked this change others didn't.
Thanks to the release of jailbreak those who don't like the new look of dock can change it. If you are one of those people who would like to remove or change the way how dock in iOS 7 looks then DockShift tweak is for you. It enables users of iOS 7.0+ to change the look of the dock. It is not only capable of removing the background but also offers variety of different dock backgrounds that give the homescreen a fresh new look.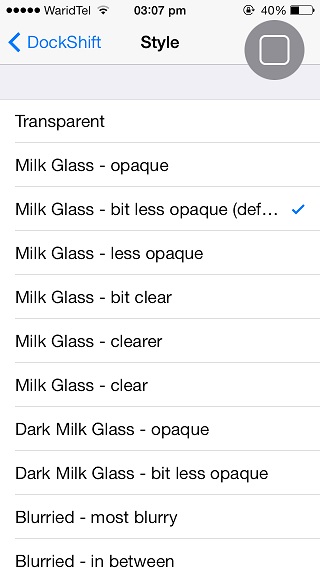 Users can choose from different options by accessing DockShift's settings from Settings.app.
DockShift is a free tweak and is now available in Cydia under the BigBoss repo. It requires iOS 7.0+.