iOS 11's iPad dock is one of our most favorite features of the new software update. The new dock is not only accessible in all apps with a swipe up gestures but it also brings many drag and drop gestures that greatly improve the overall iPad experience for the users.
While iOS 11's new dock is limited to iPad only, if you are running jailbroken iOS 10, you can have a similar dock on your iPhone. If you have an iPad that was not upgraded to iOS 11 and is jailbroken on iOS 10 or above, then you can also get something similar to iOS 11's dock with this tweak.
Similar to iOS 11 iPad dock users can access the Dock+ anywhere they like, that includes within apps, by performing a swipe up gesture. The tweak takes advantage of Activator gesture to bring dock gesture to all parts of the operating system. When you perform the gesture the dock will appear at the bottom of the screen overlaying the current app's interface.
You can tap on applications to launch apps just like you would with the normal homescreen dock. Dock+ also includes a folder feature that allows you to store even more apps. In total you can have up to 5 apps stored on the dock on a 4.7 or 5.5-inch iPhone.
Dock+ also brings enhanced multitasking to iOS 10 by allowing users to launch apps in floating windows. To open an app in a window when using an app simple swipe up to bring up the dock, then tap and hold on the second apps icon. When you do that app will be opened in a window in addition to the app you were already using.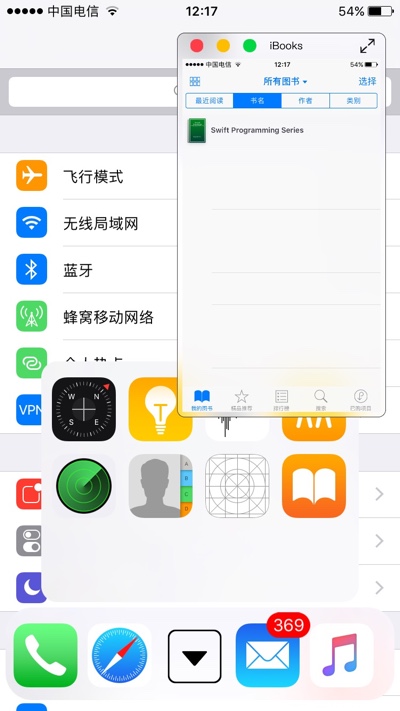 You can interact with the app that is opened in the window, change window size with pinch gesture, launch the windowed app in full screen mode and reduce the alpha of the window by tapping on the yellow button. Finally to close the app window you can tap on the red button.
You can download the Dock+ for iPhone tweak from Cydia, where it is available for $2. The developer is nice enough to allow users to try out his tweak before purchasing. Just email him from the tweak's Cydia description page.