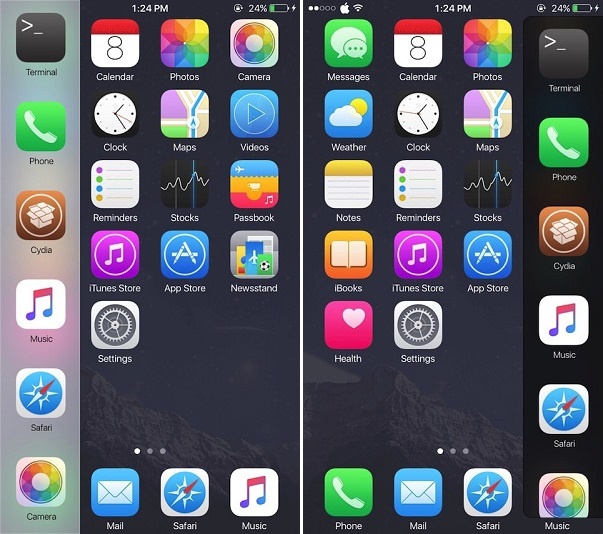 iOS lacks a quick app launcher and jailbreak developers certainly know that, as they continue to release tweaks that make it easier for users to launch their frequently used applications. A new app launcher tweak called DockBar takes a unique approach and adds a iOS dock like bar on either side of the screen, which stores icons to user's favorite apps. The bar can be accessed through a user-specified Activator gesture and offers a wide range of customization options.
You can not only select the activation method for DockBar but you can also change its appearance according to your liking. From settings you can select the dark or light background theme, change the orientation to left or right, add or remove applications from appearing on the app launcher and choose between squared or rounded edges.
The fact that users can choose the right or left orientation is a great thing, as it will make it easier for iPhone 6 Plus users to have the dock on the side they usually hold their iPhone from. For example, if you usually hold your iPhone with the right hand then you can have the launcher on the right side.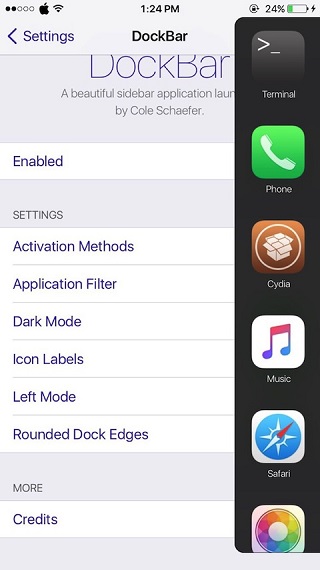 You can access DockBar from homescreen as well as any app. Unlike the default iOS dock the tweak does not limit the number of apps you can have in the app launcher. It offers scroll-able user-interface, so you can have quick access to more apps.
DockBar tweak is available in Cydia for $0.99. It works with all iOS 8 versions.