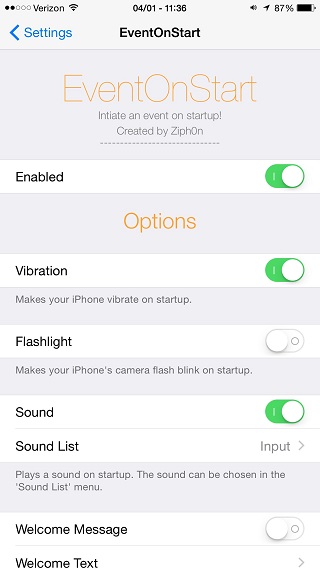 When you turn on an iPhone or iPad the Apple logo appears while the device is starting up and then you are directly taken to the lockscreen. This behavior of iOS devices is different from many other gadgets such as Macs and even other mobile devices that ring a distinct sound when they are ready to be used. Most of us would remember the unique Nokia tone that used to play right when we used to turned on our feature phones. If you want to add a similar kind of thing to your iOS device then the new EventOnStart tweak can help.
EventOnStart tweak allows users to set a sound, display a customized welcome text message, turn on the flashlight as well as make the device vibrate at startup. The 'events' occur every time you reboot or respring your device. There are 42 sounds to choose from and you can set any string you like as your welcome message. All the events are available through the tweak's settings page where you can enable or disable certain events. A great thing about EventOnStart is that you have multiple events enabled at once, so you can have a sound, vibration and welcome message enabled at the same time.
You can download the EventOnStart tweak from the Bigboss repo for free. It works on iOS 6, iOS 7 and iOS 8 powered devices.
Disclosure: iOSHacker may receive a commission if you purchase products through our affiliate links. For more visit our privacy policy page.