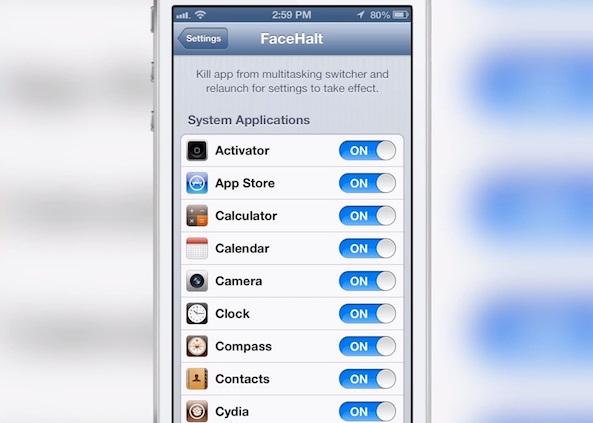 FaceHalt tweak is a new addition to the Cydia store that brings Galaxy S4's Smart Pause feature to iPhone 5 and other iOS devices. When Samsung Galaxy S4 was released one of the most touted feature of this flagship smartphone was its Smart Pause. Smart Pause feature is a unique feature of Galaxy S4 that pauses a video when you are not looking at the screen. It uses the built-in sensors to detect the position of your eyes and pauses the video if necessary. Smart Pause is perhaps the most useful feature of the fancy and exclusive features Samsung's smartphone brings with it.
The feature is exclusive to Galaxy S4 and is not available on iPhone or any other device by default. However if your iOS device is jailbroken then you can add Smart Pause to your Apple gadget. Available in Cydia right now for $2 FaceHalt tweak brings Smart Pause feature to iOS users.
The tweak is compatible with iPhone 5, iPhone 4S, iPad 2, 3, 4, iPad mini as well as iPod touch 5th generation. FaceHalt tweak uses the device's front camera to detect if you are looking away from it in which case it pauses the video that is currently playing.
After installation users can activate and configure FaceHalt tweak from settings. There are a few settings to configure which includes the toggle to turn it on or off.