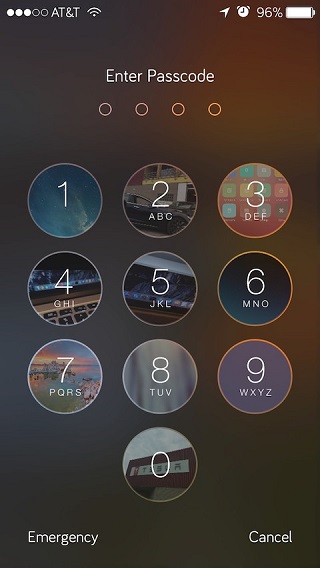 Passcode is a great way to protect your device and data stored in it from prying eyes. This simple code could provide valuable protection to your personal data keeping it safe. If you use the Passcode lock on your iPhone, iPad or iPod touch and would like to make it a little more personal then a new tweak called Faces can do that for you. The Faces tweak replaces the boring buttons of the passcode screen with personalized images.
Users can assign different images to all 10 buttons based on their liking and have them in the background of the button as seen in the screenshot above. From tweak's Settings page users can easily add images to buttons that can be their own pictures or of random places etc. After assigning a picture to each dot or button you also get to change the opacity of the background image, which gives a totally different look to how a button looks. According to tweak's description the 0.5 opacity gives the best result.
Faces is a great addition to Cydia and allows users to personalize iOS even more. Since Passcode is a widely used part of iOS that you see very often, having your own pictures could make the whole experience of using it even more fun.
You can download Faces tweak from Cydia's BigBoss repo for free. It supports all iOS 7 powered devices.