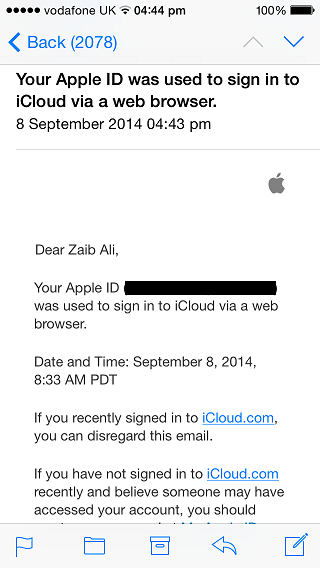 Following the massive iCloud Photo leak it looks like Apple has already started making iCloud accounts more secure. The company has now began sending out emails to users whenever their account is used to sign into iCloud's website. The email is sent out when someone signs in through iCloud.com, which gives web based access to different apps within the service including Mails, Find My iPhone, Calendar etc.
Interestingly the email is sent to the user each and every time the account is signed in through a web browser on his or her alternate mail address. This is different from other services such as Facebook, which only sends you a notification through email whenever a new computer or web browser is used to access the ID. This makes the notification annoying for those who often use the web interface of iCloud to access their account. It would make sense for Apple to only send such an email whenever a new computer is used.
While this security measure will not prevent hacking of Apple accounts, this will definitely let users know if there's something fishy going on with their iCloud ID and someone is accessing it without them knowing. This change comes exactly one day before the huge iPhone 6 and iWatch even scheduled to take place on 9.9.2014.
Disclosure: iOSHacker may receive a commission if you purchase products through our affiliate links. For more visit our privacy policy page.