The availability of iOS 7 jailbreak means we get a chance of restyling our iPhones or iPads with winterboard themes. While the latest version of iOS features a major redesign there's a consensus among a large fraction of iOS users that its new icons are pretty bad. But that's not a problem since we can now change those icons replacing them with the ones of our choice.
There are several iOS 7 themes available in Cydia right now. In this post we are going to tell you about five gorgeous themes for iPhone and iPod touch that we really like. Please note that these themes require Winterboard, which as of right now is not compatible with iPhone 5s, iPad Air and iPad mini Retina Display. Users of devices other than these can download and apply them using Winterboard.
Also read: 5 WinterBoard themes for iOS 7 you should try on your iPhone
Space BlueBerry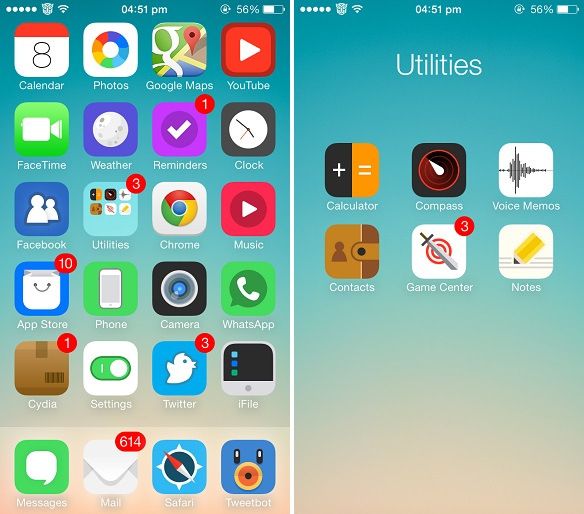 One of the many things we saw in the field of user-interface was the advent of flat design. Space BlueBerry replaces iOS 7's stock icons with more colorful and friendly looking icons. This theme not only features icons for stock apps but also replaces icons of several third party applications including Cydia, Whatsapp, Twitter and more. It has around 50 original icons. Space BlueBerry theme is available for free in Cydia.
Solstice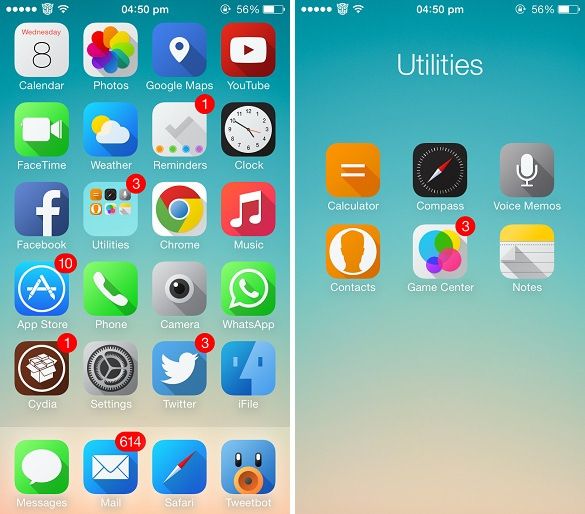 Solstice theme not only makes iOS 7's icons more colorful but it also adds a shadow to them,, which looks surprisingly good. Believe me the screenshots above are not doing justice to the awesomeness of these icons. This theme brings over 90 custom made icons for both stock and popular third party applications. Solstice can be downloaded from Cydia for free.
BrightFlat v1.5
BrightFlat v1.5 theme for iOS 7 features icons that are too flat for their own good. Although users who like bright colors would appreciate this theme. It is free as well.
Oil7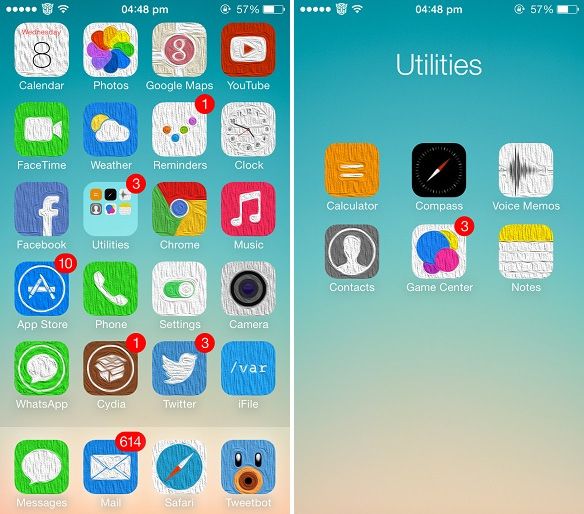 The Oil7 theme for iPhone and iPod touch takes a different approach than themes mentioned above. Instead of featuring a flat look this theme gives iOS's icons a look that make it seem like they have been drawn using a paint brush. Oil7 is available for free in Cydia.
Circulus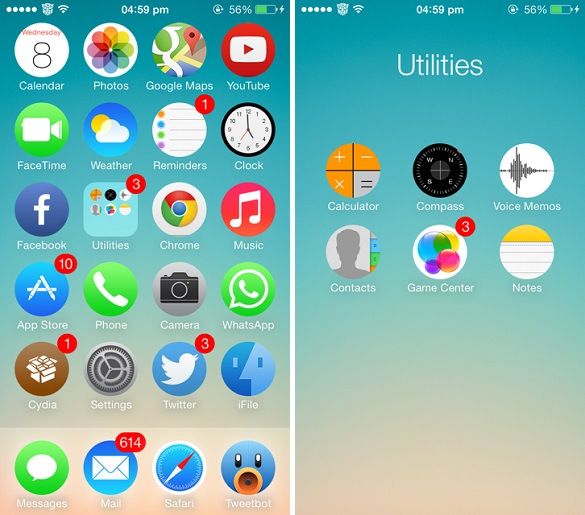 If you don't have a problem with iOS 7's icons but would love to make them rounded then apply Circulus theme on your jailbroken iPhone or iPod touch. The theme brings new icons for some apps while simply makes the existing ones round for others. Circulus theme is available for free in Cydia.
Disclosure: iOSHacker may receive a commission if you purchase products through our affiliate links. For more visit our privacy policy page.