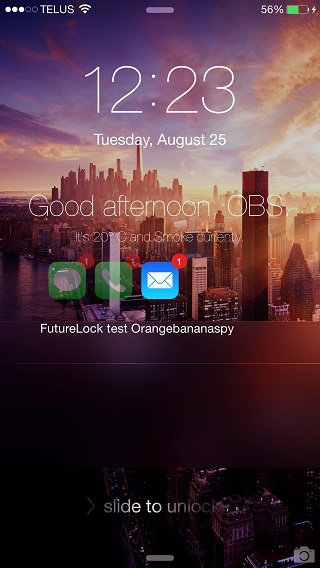 FutureLock is a new lockscreen tweak that has been made to realize a concept design that surfaced a few weeks ago. The tweak replaces the boring old lockscreen with widget based UI, which allows users to instantly access pending notifications. In addition to beautifully displaying notifications it also displays a welcome message on top followed by current weather report. This tweak makes sure you get all the information you need at a glance, without even unlocking your iPhone.
FutureLock displays the icon of the app that has pending notifications. Users can simply tap on the icon to reveal the notifications related to it. They can interact with the messages and tap on them in order to open them in their respective app. It also displays weather icon on the left side, which when tapped shows the weather forecast right on the lockscreen. On the other side users can find the icon for calendar, which shows user's Calendar. Currently the tweak only has widgets for calendar and weather, however developer has promised more options will be added in the upcoming updates.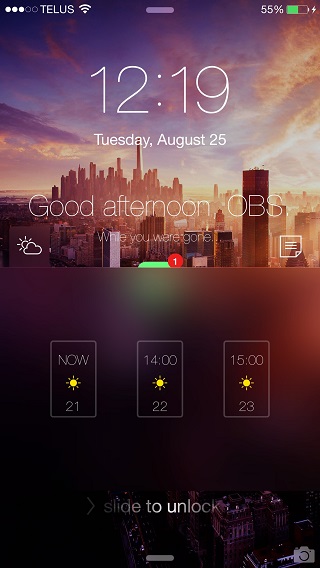 From Settings users can set custom name, set custom time for start of morning, afternoon, evening and night. They can also tweak the look of the lockscreen widgets.
FutureLock also has a lite version that is available for free. We mentioned it in one of our roundup posts here. You can download FutureLock for $2.50 on the BigBoss repo.