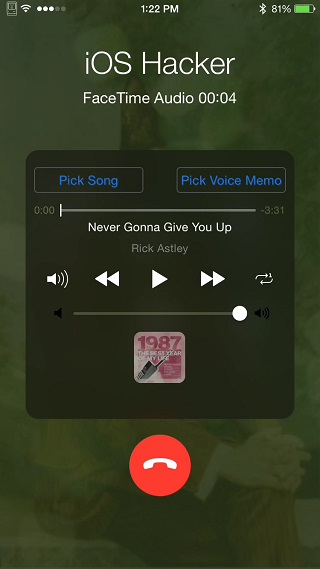 When I first saw MusicTransport on Cydia, I knew I had to try it. I had been wanting a tweak like this for a while. Basically, MusicTransport allows you to select a Song or Voice Memo and it plays the file you selected to the other person you are talking with. You can use the tweak in the native Phone app, along with FaceTime, WhatsApp, Viber, Messenger, Skype, and Tango. The description says there are plenty of uses for it, and I agree. It gives examples of doing karaoke, playing sound effects to make it appear as if you are in a different environment, and of course, the fact that you can play a song for the person on the other side.
But what I wanted it for, was Rick Rolling people.
Once you buy it and respring, you are asked to go into settings to download a licence. Once it's done, there are a few options to configure, but not many. There is a switch to enable the tweak, an option to AutoPlay the song you select, and a "Use Fixed Volume" option. The biggest part of the settings pane is the user guide. It shows all the things you can do with MusicTransport.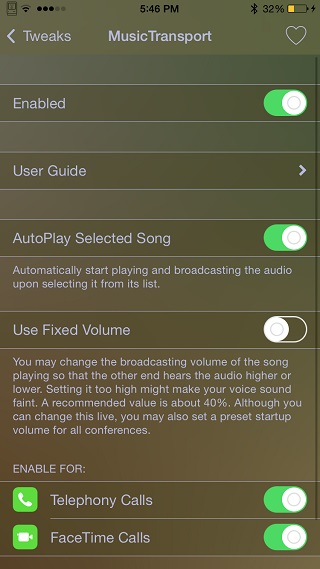 Once I got that all set up, I did a FaceTime Audio call to test it. Sure enough, it worked! It's great! A little animation plays on the icon to show that Music is playing, and you can select a song even if you aren't in the phone app.
If there's one thing to complain about, it's that it doesn't work with offline Apple Music songs. Selecting one disconnected the call immediately.
If you want to try MusicTransport and we recommend you do, it is available for $2.99 on the BigBoss repo.
What do you think of MusicTransport? Do you see a practical use for it? Let us know in the comments!