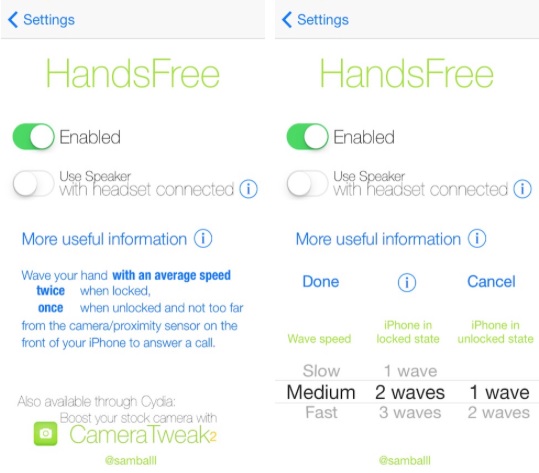 Sometimes when you are busy in doing something that requires both of your hands, picking up a call and putting your iPhone in speaker mode can be a difficult task. A new Cydia tweak called HandsFree solves this problem by allowing users to pick up incoming calls by simply waving their hand over phone's display. This tweak not only lets you pick up calls in a cool way but it also puts your device in speaker mode so you can instantly start talking.
HandsFree works for both cellular and Facetime calls and uses iPhone's proximity sensor to detect the motion of your hand. The tweak has been programmed in such a way that it won't pick up calls when you are taking your iPhone out of your pocket.
There are several options available to users that can be configured from tweak's preference menu. You can select wave speed from slow, medium or fast. You can also select how many waves you want perform to pick up calls. This number can be different for when your device is locked and when it is unlocked.
The ability to pick up calls with wave of your hand is not unique to this tweak as this feature has been around from sometime and is found on several Android phones. Since Apple does not offer this functionality it is nice to have Cydia developers making it possible for iPhone to have such a functionality.
HandsFree tweak supports iOS 7.1 or above and is only compatible with iPhone 5 and iPhone 5s. Although iPhone 5c has not been mentioned in the tweak's Cydia description it should work on it as well (not tested). You can download HandsFree from Cydia for $0.99.