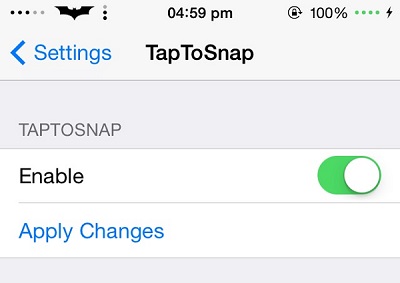 We recently wrote about the best camera app tweaks that are available in Cydia. If those are not enough for you then today we have got yet another hack that will make using this widely used iOS app even more convenient. The TapToSnap is a simple tweak that allows users to capture photos by tapping anywhere on their screen. When in the camera mode, all you have to do in order to take a photo is tap on the camera view. This method of taking photos is much quicker than clicking the camera button, which can sometimes be a hard thing to do.
Tapping is usually reserved for focus on iOS but since TapToSnap assigns this gesture to taking photos, you can perform the focus function by performing a tap and hold gesture. Just tap on the area you want to focus on and hold for a second.
You can download TapToSnap on your jailbroken iOS device for free. It runs on all iOS 7 devices including iOS 7.1.x.