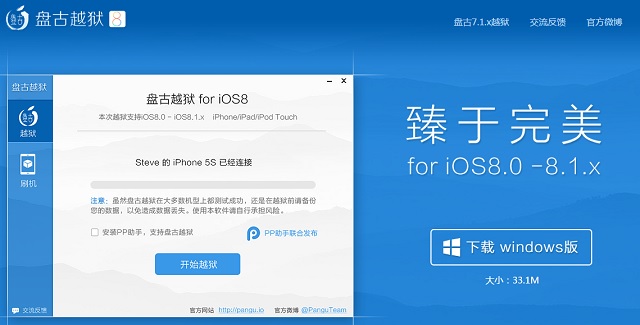 Pangu team once again took everyone by surprise by releasing the iOS 8 jailbreak. Saurik followed up soon by adding support for the new jailbreak to Cydia. As of right now you can not only jailbreak your iPhone, iPad and iPod touch (including the most recent models) but also use a complicated guide to get Cydia running on it. All this is enough for anyone to think that it is the right time to get jailbreak running on the iOS 8 powered device.
Sadly that is not true as the smart thing to do right now is to avoid installing the new Pangu jailbreak on your device. For starters Pangu tool that was released with capability of jailbreaking iOS 8.0 to iOS 8.1 does not install Cydia on your device. You have to follow a separate guide to manually install the store. Even if you do get both jailbreak and Cydia running on your iOS device there's little you can benefit from it.
There's hardly any Cydia tweak that properly works on iOS 8. Since it has only been over 24 hours since the release of Pangu tool it will take a while for tweak developers to make necessary changes to their hacks before you can take advantage of them on the new OS. Even if some tweaks work they can still cause issues with your device.
Another major reason why the iOS 8 jailbreak is not suitable for average user right now is because Pangu is still under development and it is full of bugs. Those who have jailbroken their devices have complained about issues related to iMessage and other apps.
All this does not mean you will have to wait for a long time to be able to jailbreak your iPhone, iPad or iPod touch. The whole jailbreak developer community is hard at work as evident from the development we have made on this in a short period of time. Not only Cydia was updated for iOS 8 within few hours of jailbreak's release, the Cydia Substrate has also been updated (although there are still issues that need to be addressed).
So it is advisable to wait at least for a few more days and until the release of stable Pangu8, which will also install Cydia by default. Until then many jailbreak tweaks will also receive the necessary updates making them fully compatible with iOS 8 and newer devices such as iPhone 6 and iPad Air 2.