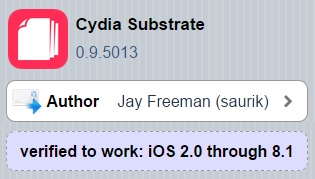 Cydia Substrate is an important component of Cydia that is required to run extensions in springboard properly. After the release of Pangu jailbreak and Cydia for iOS 8, this very important part of Cydia has also received the update that brings support for the new operating system. While the new release brings iOS 8 compatibility it has been noted that it still has some limitations. As of now after every reboot user needs to respring the iOS device in order for substrate to load all the extensions in SpringBoard. The issue is not with Cydia itself but with Pangu jailbreak.
Despite the limitations that we are sure will be fixed soon the fact that Cydia Substrate has been updated for iOS 8 means jailbreak developers will now be able to develop their tweaks for the new operating system.
Here's a part of description from Saurik's Cydia substrate page that explains the issue.
Important Limitations on iOS 8

In short, on iOS 8: after every reboot, you need to respring before Substrate will load extensions in SpringBoard.

Substrate version 0.9.5013 supports iOS 8, but because of limitations in Pangu (versions 1.0 through 1.0.1 so far tested), Substrate won't work immediately after the device boots – it will only work after the first respring. You can respring by SSHing to your device and typing killall backboardd

This happens because Pangu loads Substrate after other processes have already loaded, causing Substrate to not work until the next time backboardd and SpringBoard restart.

We are coordinating closely with the Pangu team to make certain the best possible fix for this is deployed.