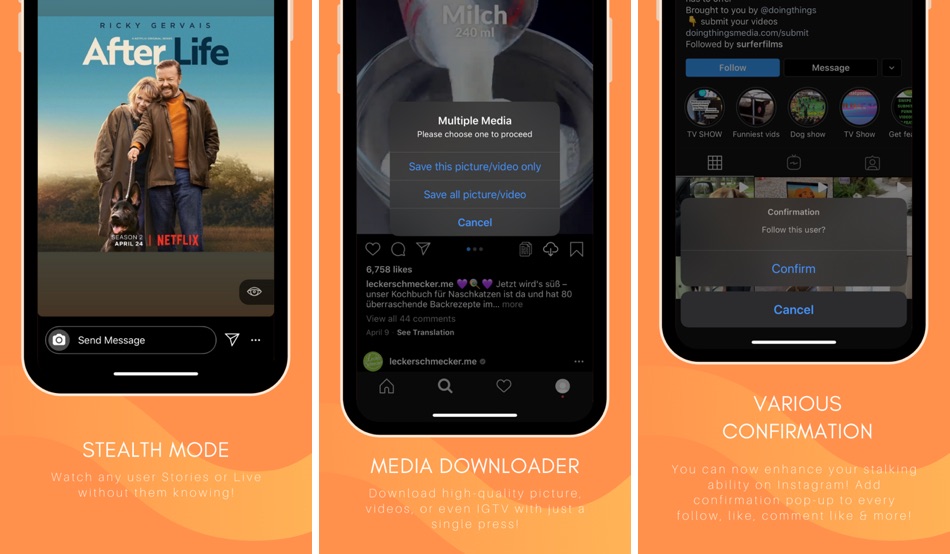 If you're an Instagram user who wants more control over the way popular social networking app works on your iPhone, then InstagramPlus tweak is here to help. This is an ultimate Instagram tweak that is designed to "unlock Instagram's full potential" for its users. It does so by offering a number of useful features that are not available on the app by default.
One of the most useful feature of InstagramPlus tweak enables Instagram users to view other people's Stories and Instagram Lives stealthily without them knowing. This means you can still see what others have posted on their Instagram Story without them knowing that you have seen it.
InstagramPlus also makes using the app less embarrassing for stalkers and others alike. The tweak adds a confirmation check for likes and following accounts, so you don't end up liking someone's post from 6 months ago while checking out their profile. When this feature is enabled InstagramPlus will ask you to confirm whether you really want to like a post or follow an account. If you haven't liked a post mistakenly you can confirm or you can cancel the action right there and then.
This tweak does not stop at facilitating stalking on Instagram as it also has a Low Data Mode feature that lets users hide the explore, post and activity tabs with switch of a button. So if you are running low on cellular data you don't end up irrelevant posts in the Explore tab. This also helps in preventing other people from accessing these sections of your Instagram account when you have to handover your iPhone to them.
Instagram app has recently stopped showing total likes and views on posts. With InstagramPlus tweak you can fix this and get the total likes and view count on your account.
With InstagramPlus you can also disable the typing indicator for your account, disable read receipts and get the ability to play direct message media files as many times as you like as opposed to official limits.
Other features of InstagramPlus tweak include ability to add unlimited accounts, view full-resolution profile picture for other people's accounts, disable quick reactions emojis, vibration feedback, Instagram Music feature in unsupported countries and more.
With the wide range of features it offers, InstagramPlus is a must have tweak for every Instagram user out there. You can download the InstagramPlus tweak from the Packix repo for free. However in order to use InstagramPlus tweak you need to buy a $3.50 license from tweak's Settings. It works with iOS 12 and iOS 13.