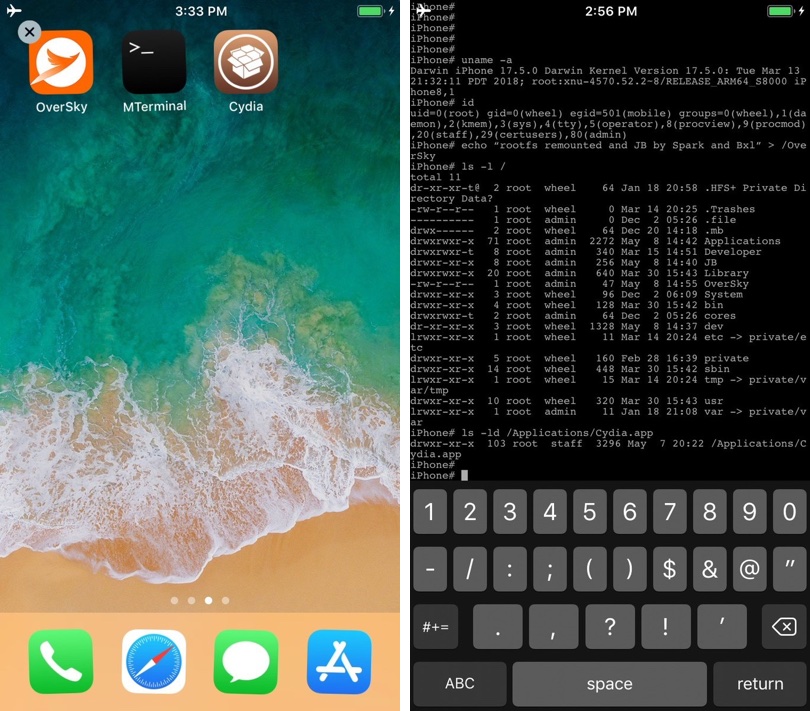 Before you get your non-jailbroken devices out, let us start this article by saying that this particular jailbreak has near zero chance of seeing light of day. Now that we have got that covered, Alibaba's Senior Security Engineer Min(Spark) Zheng has teased an iOS 11.3 jailbreak running on what appears to be an iPhone 8.
Zheng has teased iOS 11.3 jailbreaks before, however what makes things different this time around is that he has shown Cydia installed on the device. As you can see in the screenshot above Cydia and MTerminal, which is a jailbreak application are installed on the device.
He has been actively discussing the progress on his Twitter account where last month he announced that they have been able to get root shell on the latest build of iOS 11.3. Then a few days ago he shared another screenshot while noting that what's seen in it is not a jailbreak since they have not been able to remount the rootfs to R/W and don't have Cydia running on it. However that has apparently changed as seen in his recent tweet and screenshots he has shared with us.
This time. It's a real JB now…😜😜😜 @bxl1989 pic.twitter.com/OnYZUQb6nl

— Min(Spark) Zheng (@SparkZheng) May 8, 2018
As usual we don't expect Zheng or his team at Alibaba to release the jailbreak, as they create it for research purposes. However it would be interesting to see if other jailbreak developers pick up on this progress and create jailbreaks of their own, since at least we know it is indeed possible.
Disclosure: iOSHacker may receive a commission if you purchase products through our affiliate links. For more visit our privacy policy page.