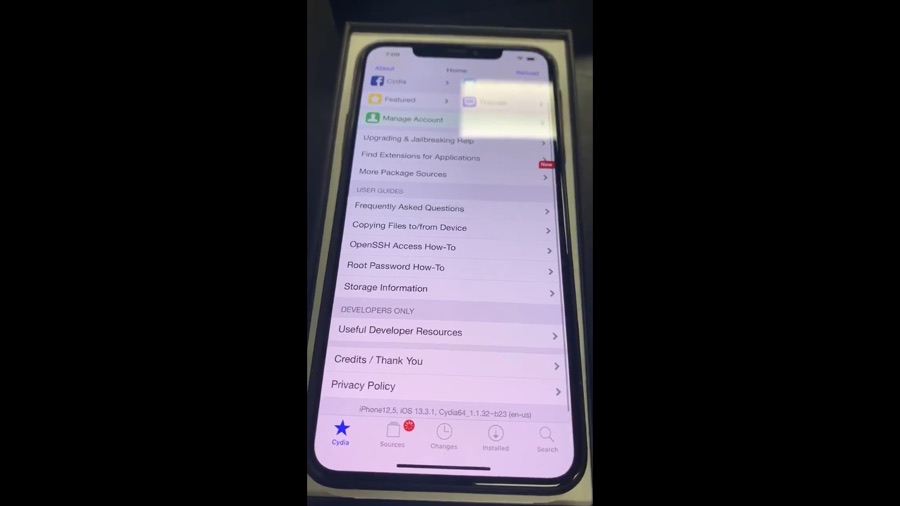 Yesterday we reported about iOS hacker @08Tc3wBB video in which the developer showcased the iOS 13.3.1 beta 3 jailbreak on iPhone X. In our post we speculated that the hack must have been based on the checkm8 exploit and mentioned what makes this hack different from checkra1n is the fact that it can be performed on-device.
However today @08Tc3wBB has posted another video that appears to suggest that his on-device jailbreak for iOS 13.3.1 beta 3 is not based on checkm8, since that exploit only applies to iPhone X or earlier. In the latest video that has been posted on his Twitter account the hacker can be seen jailbreaking iOS 13.3.1 beta 3 on an iPhone 11 Pro Max, a device that is not affected by checkm8.
After jailbreaking iPhone 11 Pro Max using an on-device custom jailbreaking tool we can see hacker launching Cydia on it. He can also been seen achieving root access on the device.The achievement made by @08Tc3wBB is quite significant as not only has he jailbroken iOS 13.3.1 using an exploit other than checkm8, but he has also done this on an iPhone 11 Pro Max.
The iPhone 11 Pro Max just like other iPhone 11 Pro and iPhone 11 feature the A13 Bionic chip. This comes as a great news for users who have been waiting for a jailbreak for newer iPhone models such as iPhone XS, iPhone XS Max, iPhone XR, iPhone 11 Pro Max, iPhone 11 Pro and iPhone 11. With this new demonstration we can see that a jailbreak is indeed possible for these iPhones and it can be achieved on iOS 13.3.1, which is the latest available version of iOS.
Also for the iPhone 11 Pro Max, iOS 13.3.1 beta3 Jailbreak pic.twitter.com/0RVjhcyOAr

— 08Tc3wBB (@08Tc3wBB) January 28, 2020
Having said all this, we still have no idea whether @08Tc3wBB has any plans of releasing the iOS 13.3.1 jailbreak for iPhone 11 and other newer devices. He has not announced any plans of developing a jailbreak for public, and it is most likely than not that he is only jailbreaking the devices for research purposes.
Another reason why hackers avoid releasing a public jailbreak and prefer reporting the bugs and exploits to Apple is because of Apple's Bug Bounty program, which pays up to $1,000,000 for them.
We will update you with more information when it comes available.