The iPhone battery life has received a major boost in this year's models however that does not mean there isn't a possibility of your device running out of charge. Many people rely on accessories like powerbanks when it comes to recharging their iPhones while they are on the go, however carrying them around and taking care of them isn't always convenient. That is where the Pitaka MagEZ Juice accessory comes to the rescue.
This cleverly designed wireless charger makes on the go charging a lot more convenient by allowing users to wirelessly charge their devices. Having said that the Pitaka MagEZ Juice charger isn't like any other wireless charging equipped powerbank out there, as it magnetically sticks to your iPhone, and essentially becomes a part of it during the time it is charging your device.
Learn more about how the Pitaka MagEZ Juice accessory works and whether you should get one for yourself in this detailed review…
Pitaka MagEZ Case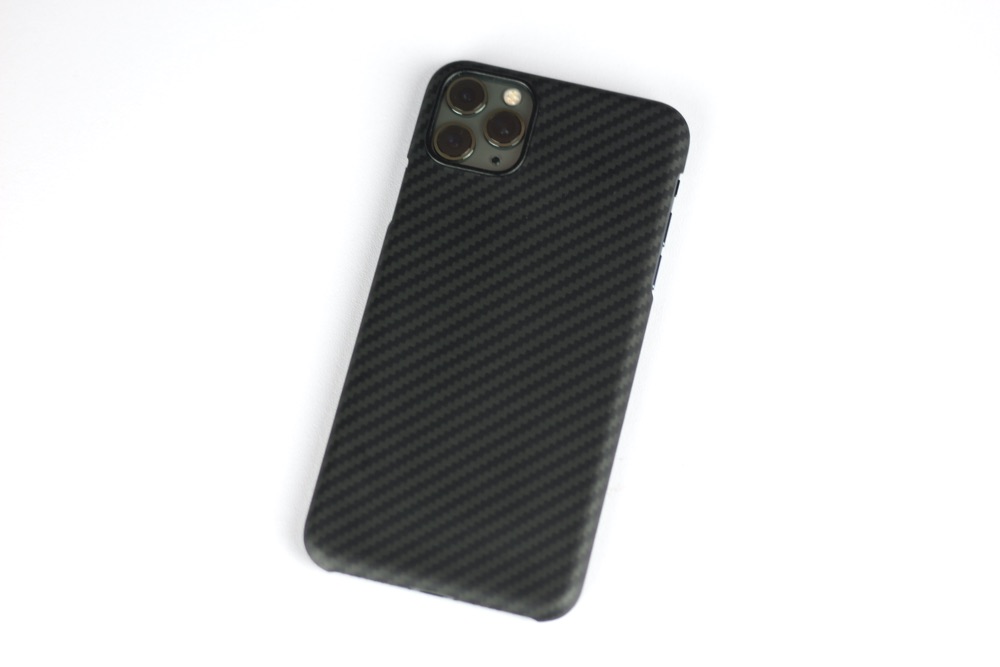 Before we talk about the Pitaka MagEZ Juice wireless charger and powerbank, it is essential that we talk about the Pitaka MagEZ Case first because the whole accessory relies on this case. The MagEZ Case is a thin protective case that provides robust protection to your device. Unlike most thin cases out there the Pitaka MagEZ Case is built with metal plates that not only make it more durable but also allow the case to stick to magnets found in other Pitaka accessories including the MagEZ Juice charger.
The Pitaka MagEZ case offers the 3D Grippy Skin that gives the case a nice and non-slippery feel. I am a big fan of the design and texture for not only how it looks but for also for how it feels to the touch. Other notable features of Pitaka MagEZ case include raised lips for back camera protection, direct access to buttons on both sides, easy access to charging port and more. Although the exposed sides and bottom means your device remains vulnerable when dropped from certain angles. Similarly the lack of raised lips on the front also means that it will not protect the screen when the phone is placed on the table in upside down position. Use of a screen protector is recommend when using the Pitaka MagEZ Case.

The Pitaka MagEZ case is available in multiple colors including Black/Grey shown above. Other colors that you can buy this case in include Black/Red, Black/Yellow, Black/Rose Gold and Red/Orange. The case is sold separately from MagEZ Juice, and costs $49.99 on Pitaka's website.
Charger Design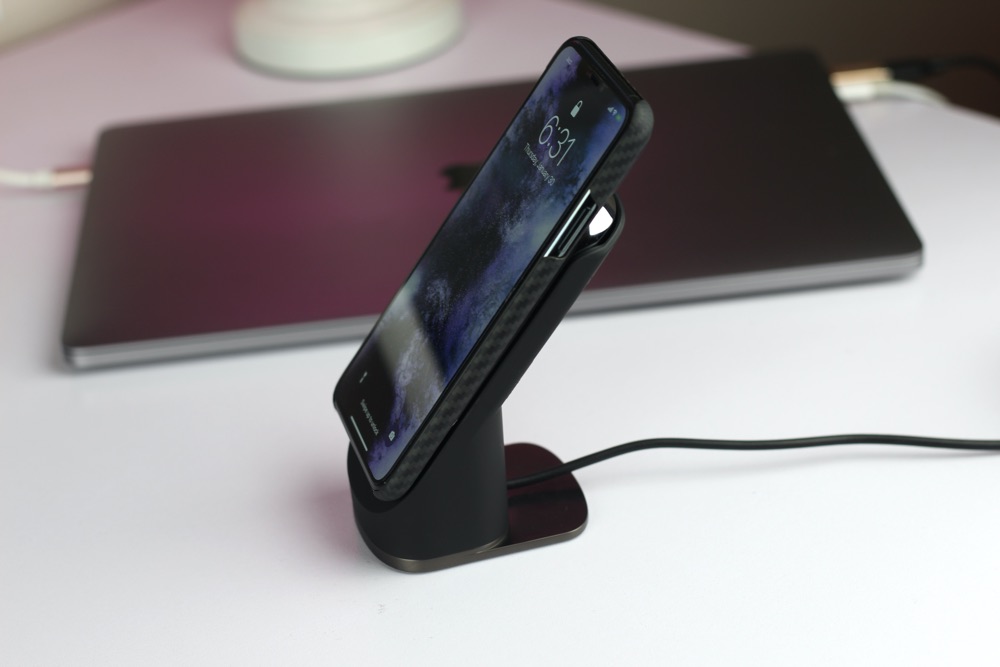 Coming back to Pitaka MagEZ Juice, this 2-in-1 accessory acts as a Qi wireless charging stand for your iPhone and a portable wireless charger when you need it. The charging stand is designed for the desktop and with its simplistic design it will blend well on your work desk, bedside table or anywhere you want to place it. The charging stand comes with removable gel pad that allows you to place it on a surface permanently without having to worry about it moving. This also helps when you are trying to take off powerbank from the charging stand.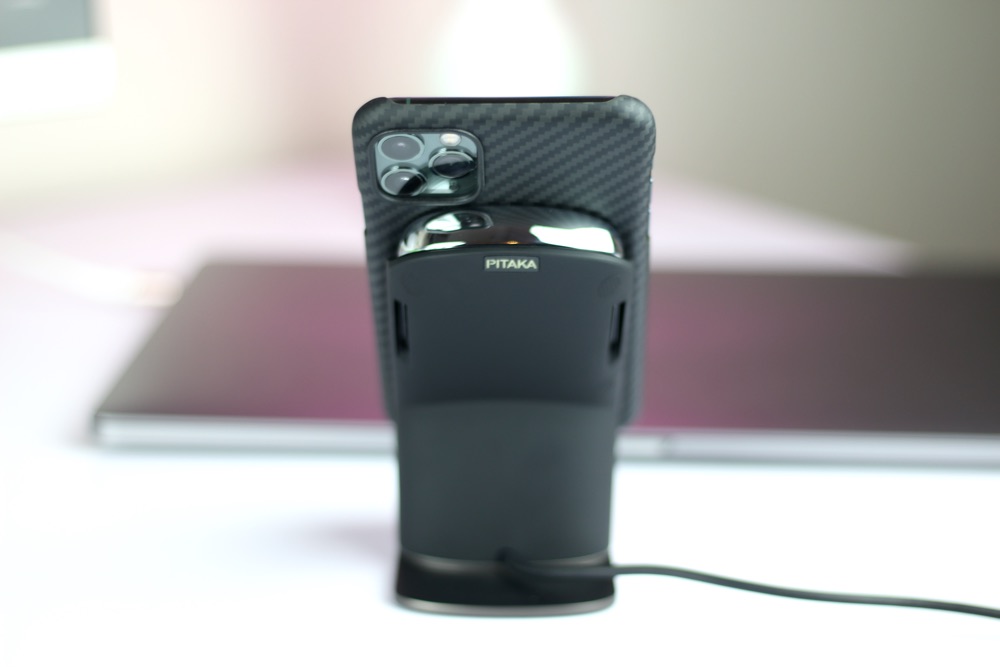 I really like the fact that the iPhone stays at a nice 45 degree angle when on the stand, allowing the user to easily use the device. This charging position solves one of the biggest issues with wireless charging and Face ID, where user had to either pick up the iPhone or awkwardly move their head down to use their device. Now they can simply use it in a convenient position. My only complain with the charging stand is that it does not allow user to stick their iPhone in a landscape position and charge it at the same time. So you can't watch a video while your device is being charged, unless you are a weirdo who will watch landscape videos in portrait orientation.
The Magic of Pitaka MagEZ Juice's Powerbank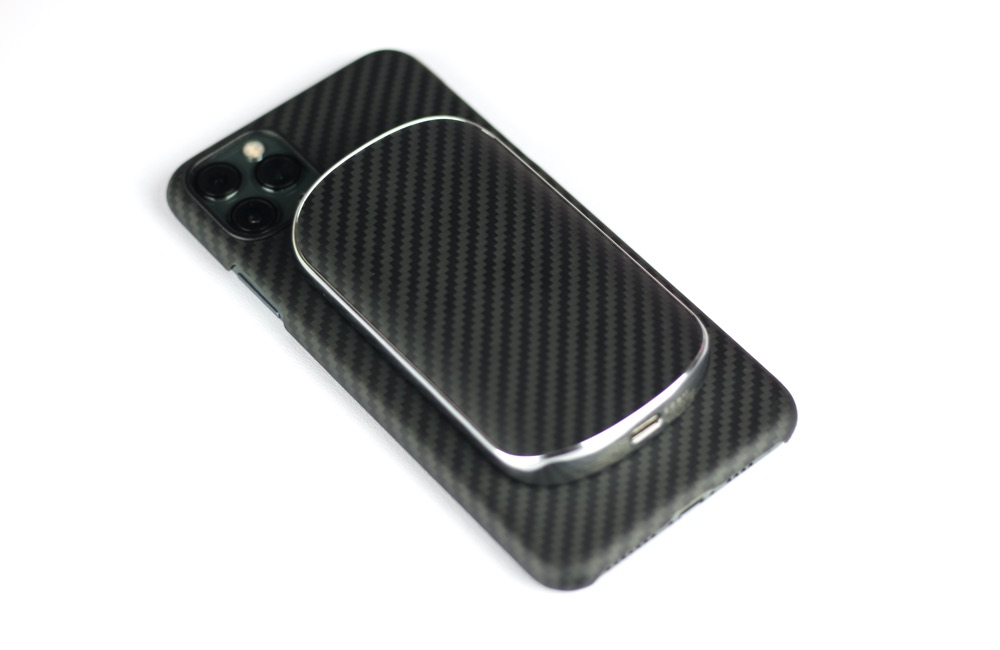 The real magic of Pitaka MagEZ Juice starts when you need to charge your iPhone's battery on the go. The charging accessory acts as a normal wireless charger, however if you are in a situation where your iPhone is running low on battery and you have to leave your house or office in a hurry, you can simply remove the powerbank from the charging stand. The removal process is quite simple, you can simply slide your iPhone in upward motion. While doing so the powerbank will magnetically stick to the MagEZ case and remain with it charging your device Watch our video for detailed demonstration of this.
A great thing about the Pitaka MagEZ Juice is that it will charge the powerbank and the iPhone at the same time, while giving priority to the iPhone for faster charge. This makes sure that both your iPhone and the powerbank are juiced up when you need them. The MagEZ Juice powerbank has a 2000mAh battery capacity, which means it is capable of giving an extra 30% charge to your device, which is enough in emergency situations.
The powerbank features a nice design that matches the design of the Pitaka MagEZ Case on the back. On sides it has a stainless steel frame, that gives it a nice and premium look and feel. On the front you will find the on/off button and four LED lights, each of which indicates 25% charge on the powerbank. So if 3 lights are lit, you will know your powerbank has 75% charge left, which keeps you up to date on when you are going to run out of charge on the powerbank.
Pricing and availability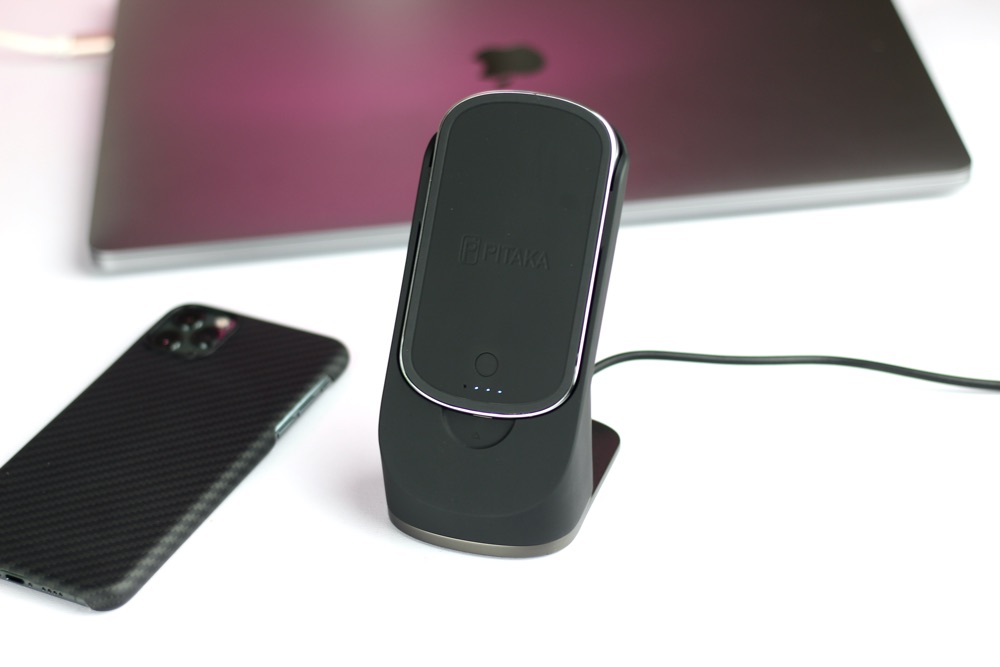 The Pitaka MagEZ Juice charing stand and wireless charger is available at a price of $89.99. It is available in Silver and Gunmetal color options. Add another $49.99 for the MagEZ Case and you are looking at a charging solution that will cost you $139.99.
So is it worth this premium price?
Pitaka MagEZ Juice wireless charging accessory provides a unique and innovative charging solution to the users. The detachable portable wireless charging powerbank, the 45 degree angle of the charging stand, the magnetic connection that holds the iPhone and the charging accessory together are all positives that need to be appreciated. If you like all this, then getting this 2-in-1 wireless charging stand and powerbank is a no brainer for your desk.
However if you are someone who likes to swap their iPhone's case every other day and cannot live with the same case for a long time, then getting Pitaka MagEZ Juice does not make sense. This accessory completely relies on the magnets that you get with the Pitaka MagEZ Case and without that case you cannot even use it as a wireless charging stand.
To sum up here are some good and bad things about the Pitaka MagEZ Juice accessory.
The Good:
Good overall design.
Charging stand holds the iPhone at 45 degree angle for easier use while charging.
Removable wireless charging equipped powerbank means you can charge iPhone on the go.
Magnets make user's life easy.
The Bad:
Cannot be used with any other case than Pitaka's MagEZ Case (sold separately).
Charging stand cannot hold the iPhone in landscape position at charge at the same time.
Low charging capacity on the power bank only makes it useful for emergency charging.
Disclosure: iOSHacker may receive a commission if you purchase products through our affiliate links. For more visit our privacy policy page.