Just like any other day some really useful iOS 7 tweaks were released in Cydia today. The good news for those of you who are still using iOS 6 is that some of them are even compatible with older version of iOS. This roundup of best new tweaks includes Activity Pro, BioLaunch, SPTouch, Swipe Down and Youtube No Ads/HQ3Q. Here's what these new tweaks do.
Activity Pro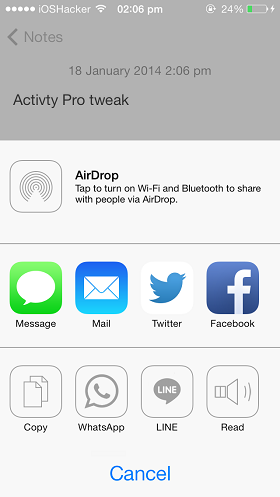 The Activity Pro tweak adds some handy sharing options in iOS that allow users to share stuff on different social applications conveniently. The tweak adds the new sharing options in the stock Photos and Notes apps enabling users to share pictures and notes to popular messaging apps including WhatsApp and Line. In our tests on an iOS 7 powered iPhone 5 the Note sharing option worked perfectly however we weren't able to find the photo sharing option. Perhaps that only works on iOS 6. The tweak also adds a 'Read' option to Notes that makes iOS narrate your notes to you.
Activity Pro tweak is available in Cydia for free. It is compatible with both iOS 7 and iOS 6 powered devices.
BioLaunch
The new BioLaunch tweak for Touch ID converts it into a smart app launcher. With this hack installed users can simply assign fingers to their most favorite app and launch applications by touching the home button with the selected finger. BioLaunch comes with safety features as well so you don't launch an app accidentally when using the iPhone 5s with a finger that has been assigned to an application. It has 2 Touch Launch feature that requires users to touch his or her finger twice in order to launch an app.
BioLaunch tweak is fully compatible with other Touch ID tweaks including Lockdown Pro, BioProtect, BioLockdown and VirtualHome. It is available for $0.99 in Cydia.
SPTouch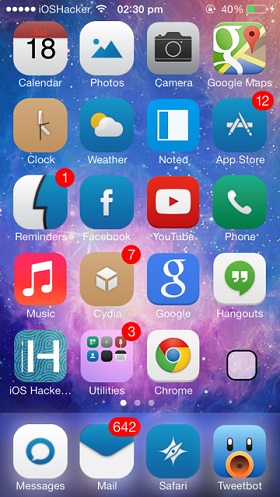 SPTouch tweak adds an assistive touch like on-screen button to iOS 7 and iOS 6 powered devices that is capable of some really useful features. It emulates home button and the lock button to perform different functions. For example with 1 tap it will emulate the home button's single tap taking the user to the home screen. With 2 taps the tweak will launch app switcher, again similar to how home button works. With 3 taps it will emulate the lock button and put iOS device in lock mode.
SPTouch comes with a number of options including ability for users to configure its size, color, border color, transparency and position. It is available in Cydia for free under BigBoss.
Swipe Down
Swipe Down is a simple tweak that allows users to kill an app from the app switcher by swiping down. Usually you can kill an app by swiping up on iOS 7. This tweak unlocks the swipe down gesture. It is available for free under BigBoss repo as well.
Youtube no Ads/HQ3Q
Don't like Youtube advertisements and hate that you can't play videos in HD on 3G? Well Youtube no Ads/HQ3Q tweak fixes that problem by disabling ads in Youtube app and enabling access to HD videos over 3G. Its a free tweak available through BigBoss repo.
Read more roundups like this