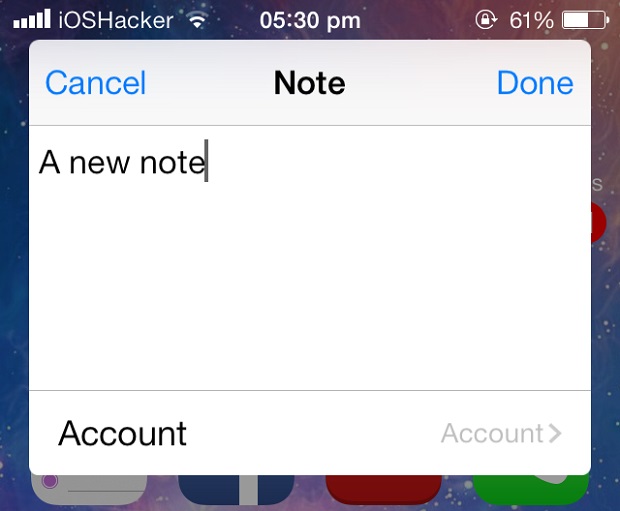 Apart from countless other things and iPhone is also a great device for note-taking. You always have it with yourself and can create notes with it without needing any extra piece of equipment such as pen or paper. Creating a note is easy on iPhone or iPad but it is certainly not perfect. Especially when you have to make a quick entry of things such as create a short shopping list or quickly note some information, launching the app and hitting the 'new' button could be irritating.
To solve that problem a new tweak called NoteCreator has been released in Cydia that allows users to conveniently create new notes using a pop up menu.
How it works is very simple, after installation you only need to assign an Activator gesture to this tweak. Once you do that every time you perform that action on your iPhone, iPad or iPod touch a pop up will appear that will enable you to create a fresh note. That note will be stored and be accessible through the stock Notes application.
You can choose any Activator action or gesture of your choice. I personally selected the 'Shake Device' action because I find it convenient.
The implementation of this tweak is very impressive and makes it feel like a native iOS feature. When creating a new note users can choose their preferred account as well from On My iPhone, iCloud and other services they have added on their device.
NoteCreator tweak is available in Cydia for free and supports iOS 7 on all new and old devices. You can see the tweak in action below.