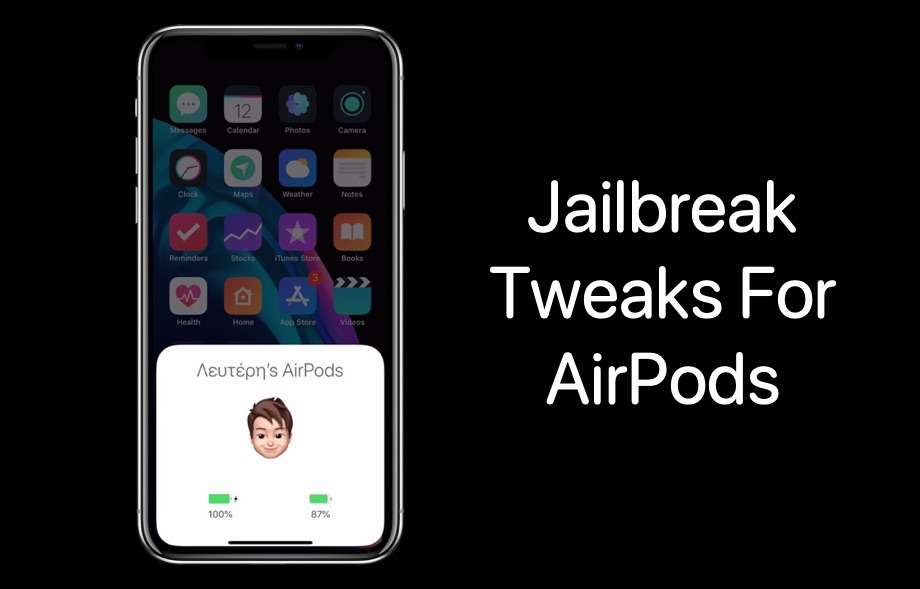 There are many jailbreak tweaks for AirPods that make it possible for users of AirPods and AirPods Pro to customize the way their device works. If you are looking to improve your AirPods experience and have more control over these devices, then keep reading.
AirPods are great but most people would agree that there are a few aspects of the popular headphones from Apple that they would like to improve. While most people are unable to change much about their AirPods, things are very different if your iPhone is jailbroken.
In this article we have showcased the best AirPods tweaks for users including MojiPods, Siliquo Pro, AirPodPopupConnect, AirPods Case Low Battery, AirPort and AirWave.
Read on to learn more about these AirPods hacks and how you can download them on your iPhone.
MojiPods Tweak: Add Animoji to AirPods popup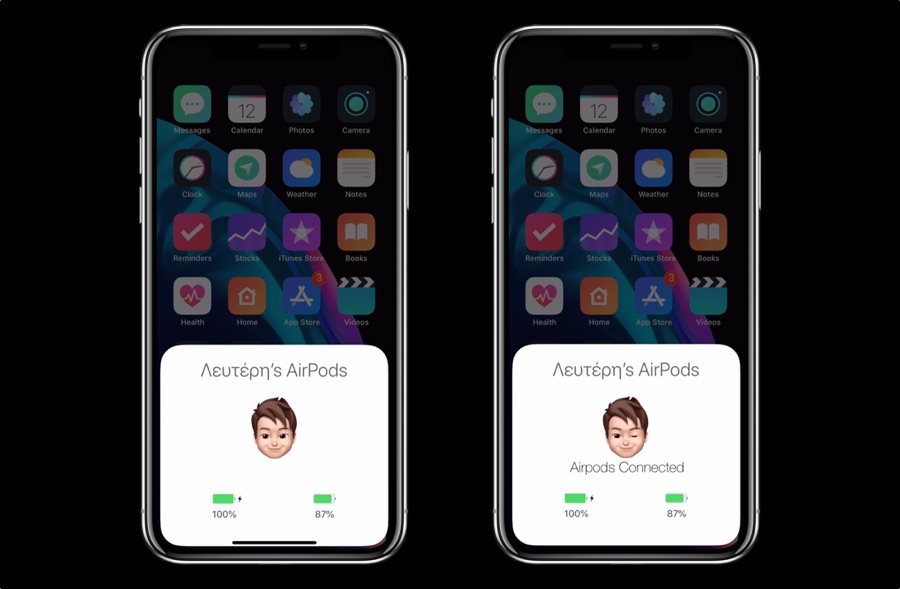 If you like Animoji, then you will love MojiPods tweak for AirPods. This tweak gives users the ability to add their custom Animoji right on the AirPods popup menu. The Animoji is displayed on the AirPods popup and can be seen every time you open the lid of your AirPods case near your iPhone. MojiPods tweak is available under the Packix repo for $0.59.
You can see MojiPods in action in the video below.
Siliquo Pro Tweak: Assign custom actions to AirPod taps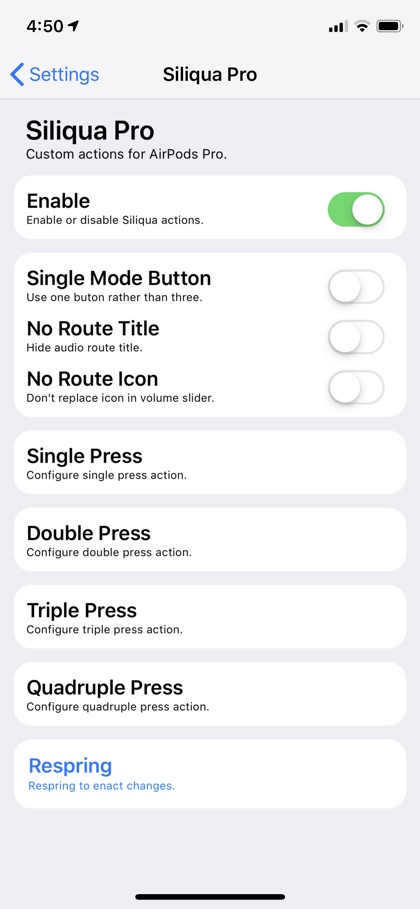 With Siliquo Pro tweak you can customize the way AirPods react when you tap on them. You can assign various actions to single, double, triple and quadruple presses of the AirPods. Once you have assigned an action to these gestures your AirPods will perform these actions every time you perform them.
You can assign useful actions like Play/Pause, Skip, Rewind, Repeat, Shuffle, Volume Up and Down, Cycle Listening modes and more. Siliquo Pro also offers listening mode controls for AirPods Pro users allowing them to assign one button for each off, transparency mode and noise cancellation. Siliquo Pro also offer some other features that make it a must have AirPods tweak for jailbreak users.
You can download Siliquo Pro tweak from the Chariz repo, where it is available for $2.49.
AirPopupConnect Tweak: Easily connect AirPods to the right device
Next up on our list of best jailbreak tweaks for AirPods is AirPopupConnect. If you use your AirPods with multiple iOS devices, then you would know how annoying it is when you wear your AirPods and they connect to your iPhone instead of your iPad and vice versa.
AirPopupConnect tweak solves this issue by placing a Connect button right on the AirPods popup. By tapping on this button you can quickly connect your AirPods to the right device without having to manually switch between devices.
You can download AirPopupConnect tweak from developer's repo (nicho1asdev.github.io/repo) for free.
AirPods Case Low Battery Tweak: Get nofied when AirPods case is low on battery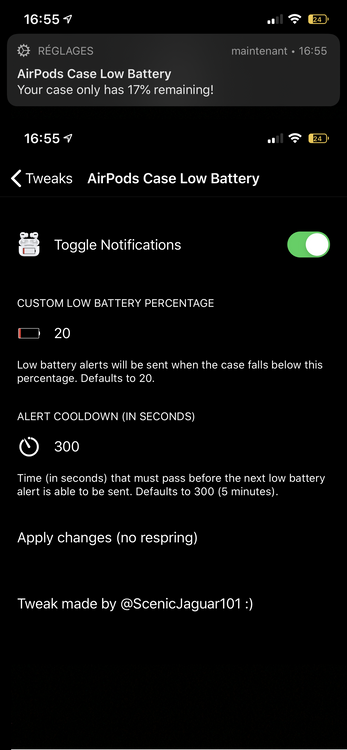 AirPods Case Low Battery tweak makes your life easier by letting you know when your AirPods case is running low on battery. After installing this tweak you can rest assured your AirPods case will not die of low battery as it will notify you as soon as it is running low.
The tweak will send a push alert on your iPhone when AirPods case falls below a certain level. The best thing about this tweak is that it gives users the option to choose the percentage at which they want to be notified.
According to its developer due to a limitation with AirPods users can only be notified about low battery on the AirPods case while the AirPods are inside the case. Even with this limitation AirPods Case Low Battery tweak is super useful. You can download this tweak from the Dynastic Repo for free.
AirPort Tweak: Customize the AirPods popup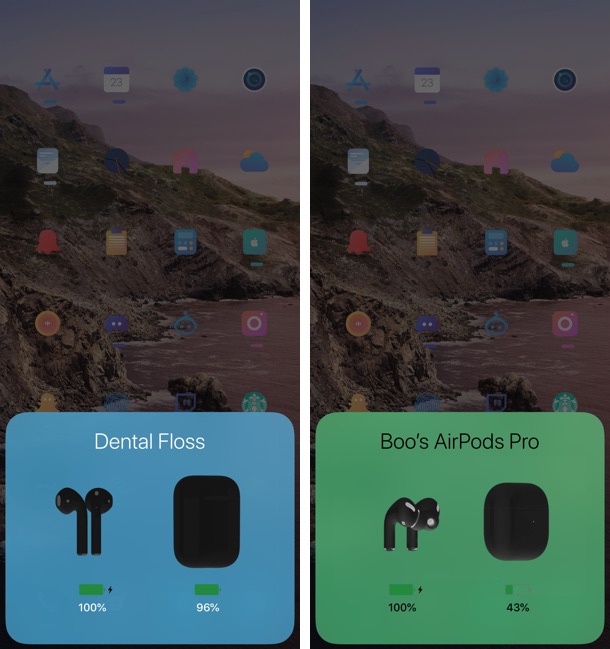 AirPort13 or AirPort (iOS 13) tweak makes AirPods more fun by letting you change the look of the AirPods connection popup. With this tweak you can change the color, animation and other aspects of the AirPods popup. You can even change the look of your AirPods on the popup and make them black. AirPort (iOS 13) is available under the Packix repo for free.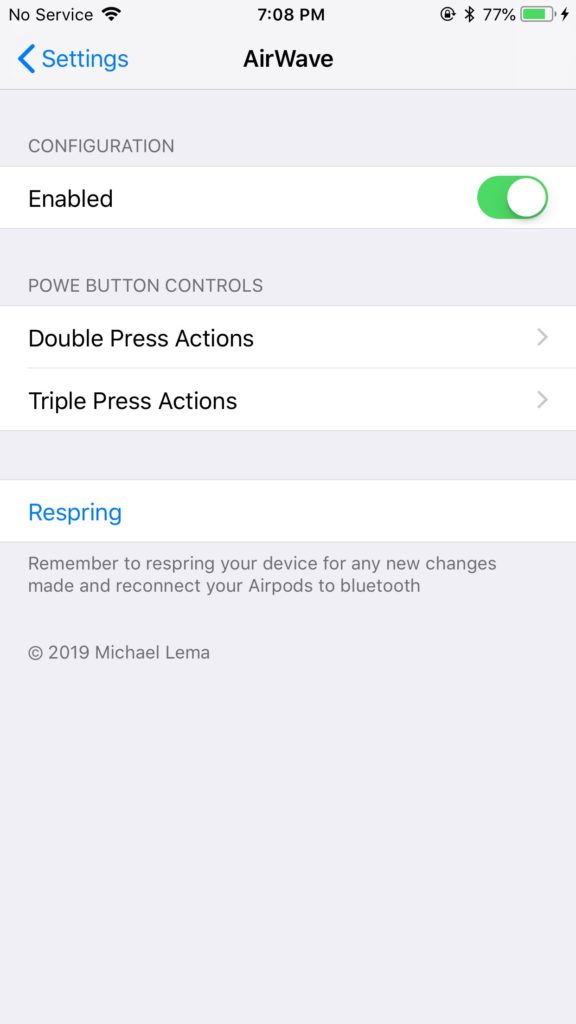 AirWave is another AirPods jailbreak tweak that allows users to perform different functions with actions. With AirWave you can double press or triple press power button to Activate Siri, Play/Pause Music, Play Next or Previous track.
This tweak is useful for those who have assigned actions to right and left AirPods already but still want to be able to perform other actions with unlocking their iPhone. AirWave tweak is available under the BigBoss repo for free.
There you have it, these are the best jailbreak tweaks for AirPods that you should download on your iPhone right now.