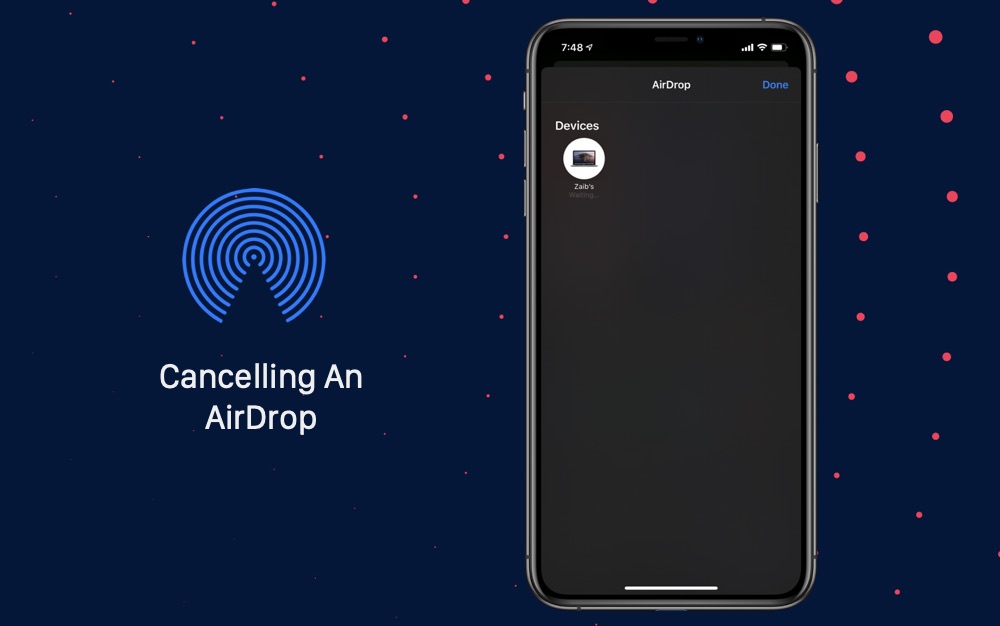 We have all been in embarrassing situations when we accidentally sent an AirDrop to the wrong person. AirDrop feature that is found on all Apple devices allows users to easily share different types of files with other Apple users.
You can use the AirDrop feature to conveniently share items like photos, videos, notes, documents, links, contacts and much more.
Due to the private nature of sensitive files you can share over AirDrop, sending them to the wrong person can have unintended consequences. Imagine accidentally sending a photo that is meant for your friend to your professor or to a stranger at a coffee shop.
Good news is you can quickly cancel an AirDrop transfer right before or during the file transfer. Upon cancelling the AirDrop transfer your file will not be shared with the other user. Having the ability to cancel an AirDrop transfer can not only save you from embarrassing situations but it can also protect your privacy.
So how do we cancel an accidental AirDrop transfer?
The process to cancel AirDrop transfers is quite simple. While making an AirDrop transfer if you end up tapping on the wrong user you can quickly cancel it by tapping on his or her display picture and name one more time.
The key is to stop the transfer while your iPhone or iPad is showing 'Waiting' under the AirDrop user's name. If the size of the file being transferred is large, then you can also cancel AirDrop during the transfer process, provided it has not completed already.
As soon as you tap on the name again the transfer will instantly stop. In case the transfer had already started, you will still be able to cancel it in the middle by tapping on wrong user's name again.
Knowing this simple tip can be immensely helpful in avoiding accidental AirDrop transfers and enable you to cancel them in time.
Did you know about this iOS AirDrop Cancel tip? Let us know in the comments section below.
Also read: