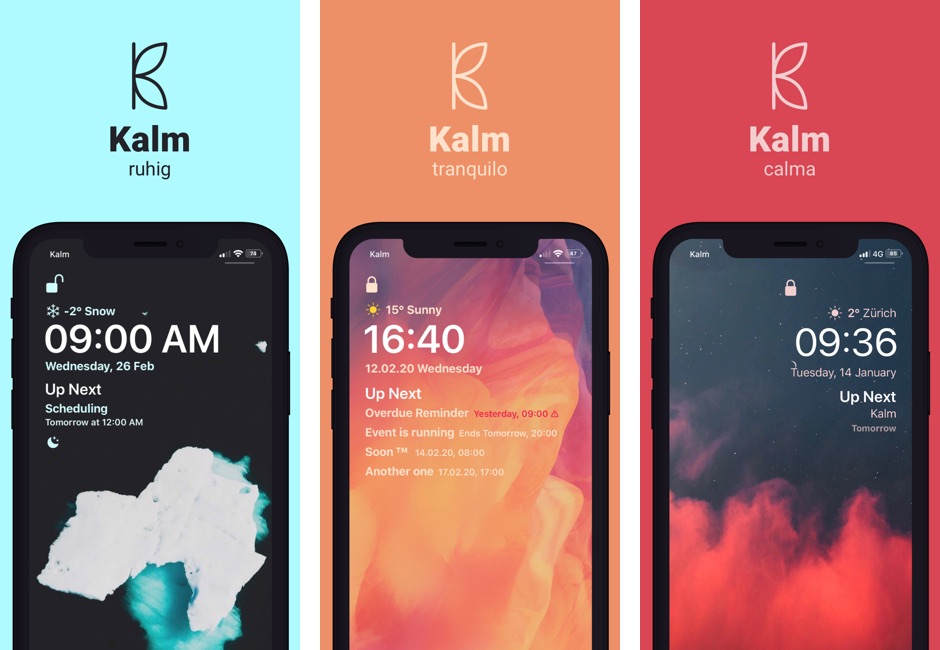 If you are looking for an iPhone lockscreen overhaul, then look no further than the newly released Kalm tweak. This tweak replaces the boring iPhone lockscreen with a screen that not only looks beautiful but also serves useful information to you.
Kalm tweak adds the Weather and Up next sections to the lockscreen. The weather section shows users the current weather condition for user's current location or the first location in the stock Weather app. If you prefer the minimalistic look, then you also have the option to only display the current temperature.
Then there's the Up next section, which shows you the upcoming events right on the lockscreen. Kalm takes the items to display in the Up next section from the Calendar and Reminders apps, which makes it super useful for people who always have something on their agenda. Kalm offers some useful options that give users control over the Up next section. For example, you can choose to hide the National Holidays and specify calendars that you want to show in the Up next section.
Users can also set how far ahead the events can be shown in the Up next area, allowing users to limit the events to just one day. Other features include the ability to turn off Up next feature on certain days such as the weekends or at specific time and ability to show up to five events and reminders at the same time.
Kalm is capable of always tinting the text color based on your wallpaper so the information widget will look good no matter what kind of wallpaper you are using. Users also get the option to select custom color for the text by entering the #Hex code. Other customization features include the ability to change text alignment, change text position and padding, choose desired date format and more.
You can download the Kalm tweak on your jailbroken iOS device through the Packix repo, where it is available for $1.99. The tweak is compatible with iPhone and iPad running iOS 13 or earlier. Some features are not available on the iPad.
Must reads: