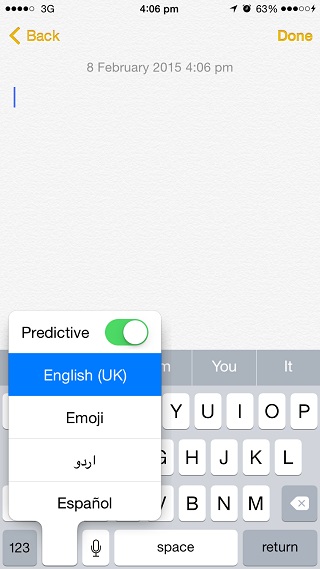 Switching keyboards on an iOS device can be tricky, especially when you have activated several language options and are using third-party keyboards. Usually there's a globe button on the keyboard that lets users switch between their active on-screen keyboards. To get a list menu for available options users can also tap and hold the globe button. While this sounds easy enough changing keyboards by tapping on the globe button isn't as easy as it sounds.
Since you can choose from many options, you have to tap many times just to get to the option you are looking for. At this point your only viable option is to tap and hold the globe button and use the menu instead. The new Keyboard Accio tweak from Cydia makes this process significantly less frustrating by letting you only switch between two keyboards at one time using the globe button. These are the top two keyboards that you have activated from Settings.
To switch to other options you can simply tap and hold the globe button like you normally would. This tweak makes it easier to jump between two of your most used options while still giving you access to less frequently used keyboards.
You can download the Keyboard Accio tweak from Cydia for free. It requires iOS 8 to run and supports all types of keyboards, including third-party ones.
Disclosure: iOSHacker may receive a commission if you purchase products through our affiliate links. For more visit our privacy policy page.