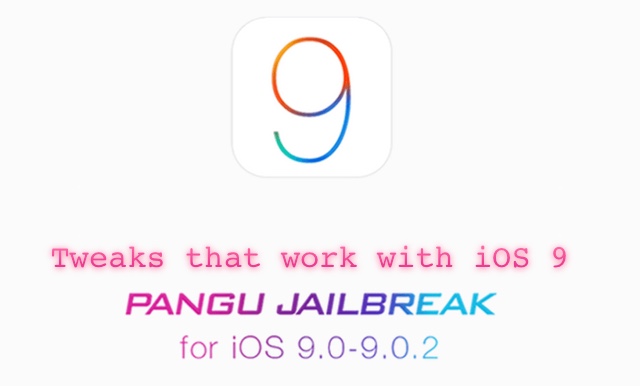 iOS 9 jailbreak is out and we have already told you how to use the Pangu tool to untethered jailbreak your device. Now that you have jailbroken your iPhone, iPad or iPod touch, it is now time for you to start having some fun. As the new jailbreak is totally new, not all existing tweaks currently work on it, however that is changing fast. There is already a long list of tweaks that actually work with the new jailbreak without any issues. In this post we have shared with you the list of tweaks that support iOS 9 right now and you can download them on your iOS 9 device.
Tweaks that support iOS 9
AlienBlue++
ABCopyTXT
AccountLabels
AppList
Assistant+
ASUpdateHider
BatteryLife
BatteryUsageEnhancer
BetterFourByFourFolders
BetterWiFi7
BootLogoCustomiser
CC Deseparator
Cloaky
CCMeters
Date In StatusBar
DietBar
F.lux (beta repo: https://justgetflux.com/cydia/)
HotDog
LegacySwitcher
LocationFaker8
LockSafety
Minimal Hosts Blocker
Minimal HUD
Mousai
NightMode8
No Percent Sign
NoLockBounce
NoMoreSeperators
NoSafariTopBlur
Notate
NoMotion
OnlineNotify
OpenSSH
Orangered
PDANet
Persian Keyboard iOS8
PowerApp
Priority Hub
safestrat
SameStatus
Sixbar
SmoothCursor
SnoozeHelper
StatusVol X
StatusVol 2
Sticky
SwipeSelection
SwipeSelection Pro
TetherMe for iOS 8+
TransparentDock
vWallpaper2
WhatsApp++
WhatsAppCustomizer
Whoozit Pro
WiFi Explorer
WiCarrier
Wink
YouTubed
20 Second Lockscreen
You can find the full and updating list here.
Disclosure: iOSHacker may receive a commission if you purchase products through our affiliate links. For more visit our privacy policy page.