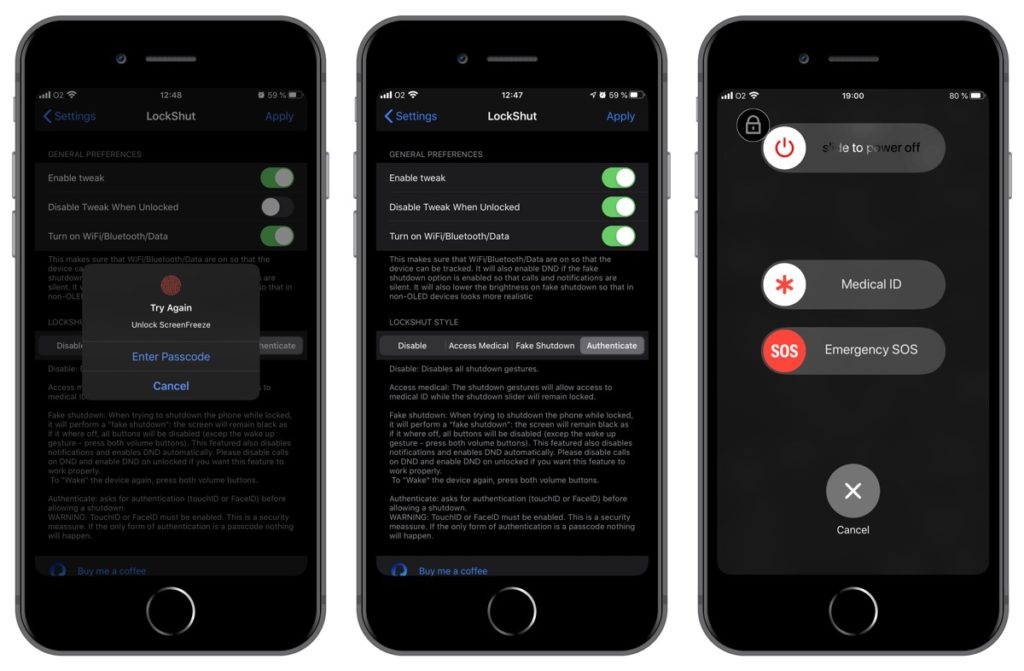 If you are looking to boost your iPhone's security, then the LockShut tweak is a must have for you. This security tweak for jailbroken devices protects the device from thieves or any mischievous person who ends up with its possession.
Using LockShut tweak you can essentially disable the shutdown action on your device. This means no one will be able to shutdown your iPhone even if they tried to after stealing it.
While the tweak will disable the shutdown action it still allows access to Medical ID slider, so medics can see it even when the tweak is active.
When LockShut tweak is active, the iPhone will only be turned off after Face ID or Touch ID authentication.
Another very cool feature that LockShut brings to the iPhone is called Fake shutdown. This feature will initiate a fake shutdown anytime someone tries to shutdown your iPhone while it is locked. While the device will seemingly turn off giving thief the impression that he has turned the device off, the device will actually remain partially functional.
All notifications and side buttons all disabled while Do Not Disturb mode is turned on. However the connectivity of the device and your ability to track it via Find My iPhone will remain intact, letting you find your device all while the thief is thinking it is off and untraceable. Users can wake the device again by pressing both Volume Up and Down buttons at the same time.
You can buy the LockShut tweak for your jailbroken device from the Chariz repo, where it is available for $0.99. It is compatible with iOS 11 all the way up to iOS 13.
Disclosure: iOSHacker may receive a commission if you purchase products through our affiliate links. For more visit our privacy policy page.