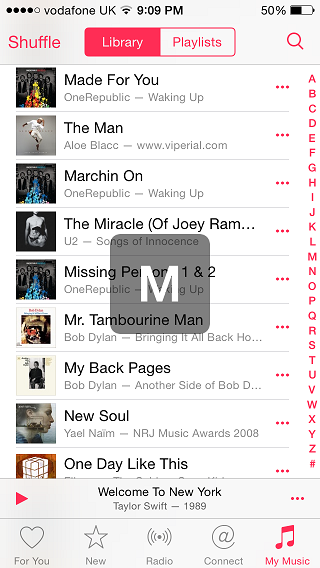 In older versions of the stock Music app there used to be an alphabet scroller popup that appeared whenever you used the alphabet navigation controls in order to scroll through a song list. Apple removed this popup in the later versions of the app and it is still not included in iOS 8.4/iOS 9's Music app. If your device is jailbroken and you want this feature back, then you can get it on your device by installing the MusicScroller tweak from Cydia.
The alphabet popup was actually useful as it allowed users to easily know which alphabet they are currently on while scrolling through a list of songs, since the side controls are usually blocked by user's own hands. After installing the tweak you will forget that it is a hack and not a stock feature as it works quite smoothly and without any bugs. The look of the popup is a also same as other elements of the Music app, making it look like a native feature.
You can download the MusicScroller tweak from Cydia for free. Alternatively you can try Ryan Petrich's Skippy tweak that does the same thing and is available for free as well.